As a global distributor, PEI-Genesis partners with industry-leading manufacturers to provide innovative solutions for cutting-edge technologies. PEI recently expanded its portfolio with three new products to support advancements in military and aerospace applications.
ITT Cannon HDxTM Series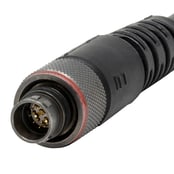 The ITT Cannon HDxTM Series offers a reliable small form factor interconnect solution in a lightweight, compact design with ultra-high-density layouts to enable critical USB, HDMI, or Ethernet high-speed data transmission. This portfolio focuses on military soldier-worn technology and supports medical, communications, and industrial markets. Its specific applications include military ground vehicles, factory automation, and robotics.
Critical to the ITT Cannon HDxTM Series is its lightweight technology, which is essential when a soldier must carry this equipment on his/her body (i.e., helmet systems, weapon systems, tactical vest systems). This solution works with applications for which space and weight savings are essential. In addition, the ITT Cannon HDxTM supports 5,000+ mating cycles, has a 20-meter sealing depth when mated, and is rated for an operating temperature of -51°C to +125°C. The series is available in a breakaway or screw-lock breakaway coupling style and an anti-glare, non-reflective Ruthenium plating.
OPTIMUS EN4165 from Nicomatic
In November 2022, PEI was named an authorized distributor for Nicomatic, which offers high-quality rectangular connector products for PCB applications. One specific product includes OPTIMUS EN4165 rectangular connectors, which are equivalent to the D38999 connector, but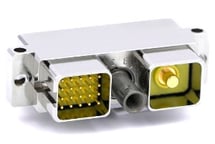 the EN4165 is more compact and lightweight.
The Nicomatic OPTIMUS EN4165 is the solution of choice for applications where technicians need to remove them from the box and quickly connect equipment, even in harsh environments. These rectangular, robust interconnect solutions are modular, sealed, and meet the EMI requirements of this standard.
Aeronautics, military, and railway applications are among the areas where the Nicomatic Optimus EN4165 connector solution excels. For defense avionics, they can withstand high vibration. For military vehicles, they are extremely robust and have exceptional data reliability when they are needed most. Finally, they provide excellent shock resistance for robotics and automation applications.
To enhance the simplicity of designs, the Nicomatic OPTIMUS EN4165 connectors are intermatable and interchangeable with existing solutions. In addition, they are stackable; suitable for panels or backplanes; and are available in an almost unlimited range of contacts, making them an excellent option for highly customizable solutions.
Amphenol Ltd. Stingray 7 Series
The Amphenol Ltd. Stingray 7 Series magnetic connectors are compact, low profile, and metal shelled. These rugged connectors have been engineered to withstand moisture, dust, dirt, and chemical exposure. In addition, these harsh-environment connectors are IP68-rated and can withstand vibration and shock. The Amphenol Stingray 7 series supports 10,000+ mating cycles and offers a –55°C to +85°C operating temperature range while providing 360° EMI shielding.
The Stingray 7 series connectors are self-aligning with a low profile and are 60° rotatable; they are positioned against the body to prevent issues with snagging and damage. In addition, they are designed for quick disconnect, allowing them to establish connections between non-tethered equipment, such as helmet to torso, and can be blind-mated. Optimized for body-worn applications, the Amphenol Stingray 7 Series is ideal for first responders, security, and military personnel.
New Products and JIT
PEI-Genesis constantly adds new products to expand its portfolio of harsh environment connectors. With Just-in-Time delivery, we stock component parts and build each product to order so that we can provide the right part at precisely the time that you need it. Moreover, as a value-added distributor, we assemble products, either catalog-off-the-shelf or a customer configuration, to meet your specific application requirements. To learn more about these products, contact a sales representative below.