Wearable technology for soldiers has poised to become a half-billion-dollar market. However, the growth in military technology isn't limited to body sensors.
The Mil-Spec connectors found in radios, tablets, headsets, and GPS systems all allow soldiers to do their jobs better and become the "future soldier," a term that's often used in the military technology industry.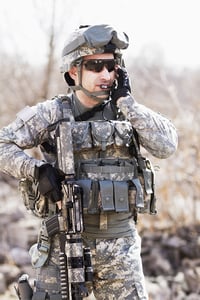 "The term 'future soldier' is used to describe a range of soldier-worn technology, equipment and devices that increase battlefield effectiveness," said ITT Cannon's Wayde King in a recent Connector Supplier interview. "Anything a soldier touches, wears, navigates or communicates with requires lightweight, durable and reliable connections."
In the interview, King noted three trends that are fueling military technology innovation:
Connectivity – The growing need for high-speed data, signal, and power to keep troops connected in any environment.
Water submersion – There is an increasing demand for interconnects that can hold up against water submersion/water ingress to help soldiers remain connected in harsh environments.
Robust shielding – The interconnects soldiers wear need to provide a strong shield against radiated emissions and susceptibility, due to the number of peripherals transferring data and other signals to soldiers' equipment.
Meeting the needs of the military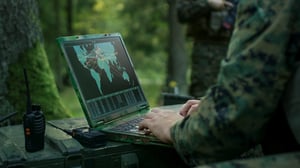 Devices worn or carried by soldiers – whether it's a tablet, handheld radio, GPS system, or headset – have become increasingly advanced, driving demand for connectors that "work with existing technology and keep pace with advancements," King said.
Mil-Spec connector manufacturers need to factor in many practical considerations as well. For example, flat interconnects are designed to fit inside clothing loops and help soldiers avoid getting tangled or caught.
Among the major challenges connector engineers are trying to help the military overcome are:
Offering protection against moisture and water submersion
Providing components that can be quickly and easily cleaned
Sourcing miniaturized interconnects to help soldiers stay light on their feet
Identifying salt and rust resistant solutions
Mil-Spec connectors need to be both durable and unobtrusive, which requires:
Small, dryable batteries and stretch-conductive insulated wires
Terminations that are reliable, insulated, and waterproof
Crease/crimp resistant PCB/FPCs
Flexible, garment-based antenna/transceiver solutions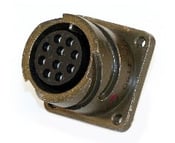 If you are looking for a reliable interconnect solution, turn to PEI-Genesis. We assemble a wide range of Mil-Spec connectors from companies such as ITT Cannon, Amphenol, and Souriau by Eaton.
Whether you're sourcing parts for tanks, ground vehicles or aviation, UAVs, body worn equipment, or ships, we can meet your needs. As a value-add distributor, we are focused on assembling custom and standard connectors for a quick turnaround to help you reduce your acquisition cost and lead times. We also aim to simplify your assembly, so you can improve the quality and reliability of your military designs.
And to learn more about how we've helped U.S. military in the past, download our case study, Mission Critical Connectors for Military Operations.