At PEI-Genesis, we're not just any typical connector distributor; we offer engineered solutions. As a value-add distributor, we assemble connectors to meet our customers' application needs in our three production facilities around the globe, allowing us to consistently deliver with speed, service, and quality that is unmatched in the industry. But what exactly does it mean to be a value-add distributor?
What is Value-Add Assembly?
PEI-Genesis is different than typical connector distributors. Rather than buying pre-built connectors from our manufacturer partners and simply shipping them to our customers, we stock all the individual parts, such as contacts, inserts, shells, grommets, etc., then build the connector to order in one of our production facilities. This allows us to assemble products, both a catalog-off-the-shelf or a customer configuration, to meet your specific application requirements.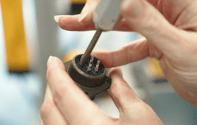 Our assembly processes use a mix of automation and manual processes, making us unique in the industry and highly agile in assembling connectors. From injecting connector inserts into shells to inserting contacts, each production facility has a team dedicated to each of these critical steps within the connector assembly process. For example, some products require loading contacts into the connectors by hand or using proprietary machinery to speed up the contact insertion process.
Within the industry, there is no better value-add assembly distributor. PEI-Genesis has over 75 years of expertise in this process and we routinely take products that have long lead times and make them instantly available in all of their variations. Our goal is to deliver products to our customers as fast as possible with low to no minimum order quantities.
Additionally, we provide connector accessories to complete your connector cable harness and to provide superior protection when the system is operating in harsh environments. Our portfolio of accessories includes gaskets, nut plates, dust caps, backshells, and more.
Our Customer Engagement Process
As a value-add distributor, you can work with our engineers to custom-engineer solutions based on your specific application requirements. As noted in our PEI line card, we have a six-step process to guide customers to the right solution.
Engage
First, we recommend that you engage with a PEI sales expert or visit our website to explore our product offerings.
Research
Next, do your research. You can browse our online resources or contact one of our application engineers at techsupport@peigenesis.com. If you are still trying to figure out where to start, talk with our engineers or check out our connector assembly cookbook to guide you through the design process!
Solve
Next, we start solving your connector problem. Our engineers are highly skilled and experienced experts who know to ask the right questions to find the best-fit connector solution for your application needs. Our team will identify a catalog-off-the-shelf solution or engineer a custom one depending on your requirements. Our assembly capabilities allow us to develop additional configurations beyond the manufacturer's options. We're not afraid to take on any connector challenge!
Optimize
But we don't stop at merely finding a workable solution for your problem — at PEI-Genesis, we take pride in our connector expertise. We'll continue working with you to ensure our solution fits your application requirements.
Based on our large component inventory, we can build quick-turn prototypes to test the product within your electronic system. Since PEI has numerous components in warehouses worldwide and equipment in place, we can assemble connectors quickly and efficiently for you.
We can also create custom part number configurations specific to your application requirements to allow flexibility for our engineering customers. After creating a part number, our PEI engineers will design a layout or drawing of your prototype for approval.
Approve
The fifth step in the PEI process is ensuring that you approve all technical specifications, quotes, timing, and quantities — and we will continue working with you until the solution meets your needs.
Manufacture
The last step is the assembly of the final connector solution with precision and speed. So whether you need one connector or 500, PEI-Genesis can provide a solution fast.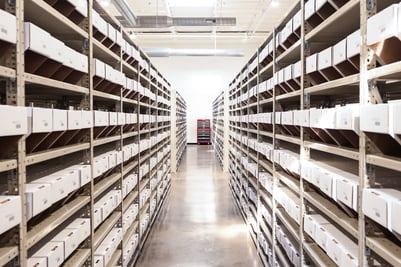 Additionally, with our massive inventory in our production facilities worldwide, we can secure your needed products in stock to accommodate long-term contracts and production schedules — we call this bonded inventory. This gives you peace of mind of knowing that the parts you need are here for you, ready for quick delivery when you need them.
Our Quality Promise
PEI-Genesis prides itself on our product knowledge and quality promise. By employing Six Sigma-certified process engineers (also known as quality engineers) in every facility you can count on receiving high-quality products, fast. These engineers have received Lean Six Sigma training that validates professionals skilled in identifying risks, errors, or defects in a business process and removing them. Six Sigma certification means our process engineers analyze processes and outcomes to reduce waste and defects.
These process engineers support our quality policy to ensure we provide speed, service, and consistent quality to our customers. Their job is to constantly monitor the flow of operations and implement improvements to ensure everything runs smoothly with a focus on speed and accuracy. And among other things, our process engineers provide quick and easy setup when taking on new products — including the needed stations, tools, and assembly line.
When the Design Matters, PEI-Genesis Delivers
With 26 manufacturing partners, we have a massive inventory of components that can be used in thousands of different part number configurations. This gives you the critical flexibility needed for your project with quick-turn prototypes, shorter lead times, and low to no MOQs. Whether you're designing a satellite for space or a robot for an automated factory, at PEI-Genesis, we can help you with every step, from design to delivery.