PCB termination solutions are advancing and becoming more popular for good reasons. Along with benefits supporting safety and SWaP constraints, solutions are available for use in harsh operating environments.
What are PCBs?
A PCB (Printed Circuit Board) has multiple components installed, including microchips, capacitors, resistors, and soldered, mounted connectors. PCBs allow components to be interconnected and work collectively. The board itself is non-conductive, but hundreds of electrically conductive lines are known as traces that connect components. These traces are either printed (as implied in the name) or etched and can transmit power or signals. But what is the best way to connect PCB boards to other systems for communication?
PCB Terminations
PCB termination is one way to connect data cables to PCB boards. Wires terminated by solder and crimp are still used with PCBs; however, with the rise of SMART technology, IoT (Internet of Things), and automated products, PCB termination is becoming more predominant and consistent for several reasons.
PCB terminations protect the electronics within frames or boxes, which makes them highly portable, which can result in time savings. In addition, they can easily be swapped/replaced, reducing downtime, and saving technicians time when repairs or troubleshooting are needed. The use of PCB terminations makes products safer for end-users while protecting the circuitry inside because the components are confined rather than exposed.
PCBs are continuously evolving with new materials and manufacturing processes and becoming densely populated as more components are needed. PCB terminations match these PCB design characteristics through their compact design that saves weight and size/space by containing all the electric circuitry in one place, making them ideal for SWaP-constrained applications, such as industrial automation, aviation, and space.
PCB Termination Connectors

Many connector products on the market support PCB termination, including Nicomatic, Positronic MACH-D connectors, and Conesys D38999 Series--all of which are available through PEI-Genesis.
Nicomatic Rectangular PCB Interconnects
To find high-quality, rectangular PCB interconnect solutions, check out one of PEI's newest suppliers: Nicomatic. Their product line includes board-to-wire, board-to-board, and PCB mount connectors for various energy, aviation, defense, industrial, and medical applications. In addition to standard Micro-D connectors, IO connectors, and connectors for flexible circuits, they also offer short-run, customized solutions.
Positronic MACH-D Connectors
Positronic MACH-D connectors are high-density, space-grade PCB terminator technology. They have been engineered with precision machined shells to provide superior EMI shielding that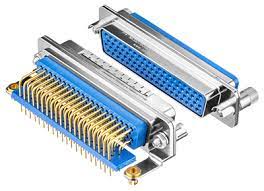 protects against electronic disruptions resulting in data loss and system failure.
Positronic MACH-D connectors are ideal for some of the harshest operating environments. They are IP67 rated against the ingress of dust and fluid -- and are available in solder PCB contact termination. Their applications range from cutting-edge medical applications to deep space exploration, indicating their reliability and dependable performance.
Conesys D38999 Series Connectors
Conesys D38999 Series are small, cylindrical connectors well-suited for applications where weight and space matter in industries, including military, aerospace, commercial, and mass transportation. Qualified to MIL-DTL-38999 standard, these connectors provide reliable connection even when exposed to harsh environments.
Conesys D38999 connectors are available in a wide range of mounting styles and coupling options.
PEI-Genesis: Your Source for PCB Termination Solutions
If you are looking for high-quality, reliable PCB connectors, PEI-Genesis is ready to partner with you. We carry connectors with PCB termination options from industry-leading manufacturers. Our experts and engineers will work with you to find the solution you need, whether it's an off-the-shelf space-grade connector or a custom-engineered solution for defense equipment that must operate in extremely harsh environments.