Protecting against outside elements in harsh environment applications is critical when dealing with electrical connectors to ensure proper performance and safety. Fortunately, IP69k-rated connectors exist to provide the highest level of ingress protection against both dust and water. While IP69k-rated connectors are typically associated with heavy equipment working in harsh outdoor environments, they are equally valuable for designs that demand protection during sanitation and cleaning.
IP Ratings
IP (Ingress Protection) ratings are based on IEC 60529 — degrees of protection provided by enclosures (IP Code). The International Electrotechnical Commission's standards deal with enclosures for electronic and electrical equipment with a maximum rated voltage of 72.5 kV. A more detailed overview of the IP rating system is available in addition to the short review provided here.
A basic IP rating is made up of two digits:
The first digit indicates the level of object and dust protection on a scale of 0 to 6, where 0 indicates no protection and 6 represents no ingress of dust and a certain level of protection for persons interacting with the equipment.
The second digit indicates the level of protection against liquid ingress on a scale of 0 to 9, where 0 indicates no protection and 9 indicates there is no ingress of high-pressure hot water from different angles.
The original IP standard, ISO 20653, was specified for road vehicles, such as dump trucks or cement mixers, to withstand regular and intense cleaning. However, more recently, ISO 20653 has been adopted by plants in the food and beverage industry, where industrial equipment must be cleaned and sanitized thoroughly to prevent chemicals and objects from contaminating the food products.
What Does IP69k Mean?
The number 6 in IP69k means the connector is dust-tight, indicating complete protection against dust and other particulates. The number 9 and letter k mean the connector is protected against high-pressure water and steam jets, including close range, high pressure, and high-temperature spray associated with cleaning.
IP69k Testing
IP69k connector testing, as defined by ISO 20653, is significantly more demanding than other IP testing processes. For example, the water intrusion test is conducted by placing the connector on a turntable that rotates every 12 seconds (equivalent to 5 rpm) and spraying it with water at a temperature of 176 °F. The water is sprayed from 4-6 inches away at a flow rate of 4 gallons per minute with pressure between 1,160 - 1,450 psi and angles of 0, 30, 60, and 90 deg for 30 seconds each.
A connector must pass these tests to be rated IP69k. ITT Cannon has two product lines that meet these demanding requirements: the ITT Cannon CTC Series and the ITT Cannon APD Series.
ITT Cannon Cable-to-Cable (CTC) Series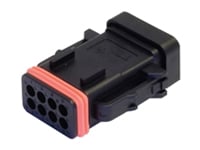 The ITT Cannon Cable-to-Cable (CTC) Series of rectangular connectors are IP69K-rated and suitable for harsh environments in various applications. These applications include transportation, automotive, heavy equipment, agriculture, and commercial and industrial outdoor electronics. CTC connectors have been found especially useful in engine harnesses, lighting systems, signal interfaces, and seat and window controls.
ITT Cannon CTC connectors are engineered with a positive locking latch. As a result, they require no special contact tools, blind seals, or wedge locks, making installation and maintenance easy. These IP69k connectors also have a polarization key that prevents misalignment and simplifies blind mating. In addition, they include a silicone rubber interface gasket that allows them to withstand extreme conditions related to moisture and temperature. ITT Cannon CTC connectors are available in layouts ranging from 8-way to 24-way.
ITT Cannon APD Series
The ITT Cannon APD Series are heavy-duty, environmentally sealed connector solutions available in IP ratings up to IP69k. They are often used in the harsh environments of agriculture, heavy-duty trucks, construction equipment, electrification/EV, and general industrial applications.
These fully plastic connectors are designed with a bayonet coupling mechanism and are available in 6 layouts that include:
4-way VDE-certified high voltage
1- or 2-way high power
Standard 4, 6/7, 19, 37, and 51-way configurations
ITT Cannon APD connectors can be configured with up to 4 mechanical codings, multiple color options, and tactile and visual mating feedback to ensure a safe and reliable connection. They also include lock wire holes and individual wire seals for enhanced security.
PEI-Genesis: Your Source for IP69k Rated Electrical Connectors
IP69k connectors are not just for harsh environment applications involving heavy equipment or public transportation — they are equally valuable for other industries where sanitation and cleaning are critical, including food, beverage, and pharmaceutical. PEI-Genesis has the IP69k connectors required for your application, regardless of the industry or application. With the help of one of our connector experts, we'll help you find the right solution for your design.