Oftentimes, electrical connectors must be mated in situations where they are hard to see or difficult to reach. Plus, they can already be challenging enough to use in harsh environment applications even without the added complications of the lack of a direct view of the connectors or restricted access to the connectors themselves.
As a result of such challenges, installation and maintenance times are longer, leading to increased costs. These situations increase the risk of incorrect mating or unsafe mating attempts that can lead to connector failure. Fortunately, there is an excellent solution to these complications: blind mate connectors.
What is a Blind Mate Connector and How Does the Connector Work?
Blind mate connectors achieve a connection through a sliding or snapping action or by using guide pins — all with no special tools or wrenches required. Unlike other connector types, many blind mate connectors have self-aligning features that correct small misalignments when mating and help guide the connectors into the correct mating position. This feature is quite different from the more rigid coupling mechanisms found on threaded or bayonet couplings, reducing the chance of connector damage and preventing problematic errors due to incorrect mating.
Since the user may not see if the connectors are correctly mated, blind mate connectors should provide auditory and/or visual indicators to give the user confidence that the connection is properly achieved. Again, this is a significant improvement from merely hoping that a reliable connection was made, especially when the application depends heavily on a stable connection.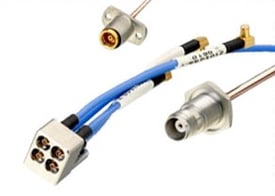 There are various connector types commonly available with blind mating options, including power and/or signal connectors with either cable or board mount options, connectors with multi-pin arrangement between racks and panels, optical connectors (ex: to link fibre optics on a plug-in card to an optical backplane, or through an optical midplane), and RF connectors. Blind mate connectors are also available in various orientations, including wire-to-board, board-to-board, and wire-to-wire. They can also come packaged in a multiport configuration that includes mounting hardware or provided as inserts in a circular connector such as a MIL-DTL-38999
Where are Blind Mate Connectors Used?
Blind mate connectors are often needed for the following applications:
Medical equipment
Infotainment systems
Wireless base station infrastructure equipment
Installation and maintenance of energy systems, including energy storage, power plants, and electric power transmission systems
Consumer appliances
Microwave subsystems
Uninterruptible power supplies (UPS)
Antennas
Autonomous vehicles
Satellite communication equipment
Navigation systems
Military radar equipment
Blind mate connectors are a popular choice in a variety of mission-critical applications that demand performance in harsh and rugged environments. In any situation where the receptacle is hidden or recessed so that it is difficult to see or reach, the connectors can warrant the use of a blind mate connector. This includes the back of an interface card plugged into a chassis and other "black box" installations.
The Benefits of Blind Mate Connectors
Opting to use blind mate connectors provides several key benefits, including the following:
Reduced production, installation, and maintenance costs
Shorter assembly time
Fewer errors during assembly
Shorter downtime
No special tools are required
Less stress and frustration for the user
Minimal impact on the size or weight of the design
Fewer mismated connections
It is important to keep in mind that blind mate connectors are also designed to be extremely durable. If mistreatment occurs, they remain reliable and continue to perform as expected.
PEI-Genesis: Your Source for Blind Mate Connectors
At PEI-Genesis, we understand the frustrations of trying to mate connectors in hard to reach, hidden situations. We also know that the ability to achieve a stable, reliable, and correct connection is crucial to any design, whether you are engineering downhole test equipment for the oil and gas industry or power and data connections essential to an autonomous vehicle's safety. Let our design team help you find the right blind mate interconnect solution for your unique application.