Having a secure and safe connection between mated connectors is crucial to avoid potentially hazardous situations that put equipment and, most importantly, lives at risk. This is where coupling mechanisms come into play. Each coupling style has a different set of key features and benefits, but all ensure a secure connection in whatever the application might be. Since there are so many available styles, choosing the correct coupling mechanism for your application is critical to avoid problems.
Factors to Consider When Selecting a Circular Connector Coupling
Threaded, bayonet, and push-pull are the three basic coupler styles commonly used for circular connectors. When selecting which coupler style to use, various factors must be taken into account, including technical requirements, environmental conditions (e.g., vibration, shock, moisture, dust), ergonomics, and the required number of mating cycles. User experience regarding installation and maintenance, as well as cost, must also be considered.
Threaded Connectors
Threaded couplers are ideal for applications where performance is critical, and the required mating cycles are low. These circular connectors achieve a significant mating force, which reduces the possibility of accidental disconnection. Threaded connectors can fully mate after only four turns of the coupling ring. For added security and reliability, lockwire holes are provided along the outside of the coupling ring.

In addition to being an economical option, there are also advanced coupling design features available for military D38999 connectors. This type of threaded connector features both triple-start threads and a ratcheting coupling to ensure a secure connection, even in high vibration applications. Threaded circular connectors are commonly found in communication equipment, heavy machinery, military aircraft, and missiles.
Bayonet Connectors
Bayonet couplers are extremely easy to install, offering both speed and convenience through their simple "push and twist" mating motion that makes them well adapted for applications where frequent mating and unmating is required. Coupling/decoupling is achieved through a ⅓ turn of the coupling ring, and mating is gained through the use of bayonet pins and ramps instead of threads.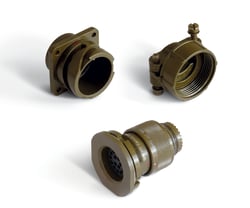 Bayonet connectors offer a combination of visual, audible, and tactile confirmation that the connectors have been correctly aligned and securely mated. There are also inspection holes
on the coupling ring that can provide further visual proof that the bayonet pins are in their locked position.
Circular bayonet connectors are ideal for blind mating applications and are often found in rugged industrial environments that often include shock and vibration.
As industrial connectors, they are commonly used with power generators, sensors, and engines.
Push-Pull Connectors
Push-pull circular connectors are designed to prevent accidental disconnections through a self-latching mechanism that involves pushing a plug into a matching socket. The connection achieved cannot be broken by merely pulling the connectors apart, but rather the connector body must be
squeezed while pulling outward to break the electrical connection successfully. Unlike more traditional connectors that require a rotational force to achieve mating and unmating, push-pull connectors rely on an axial force.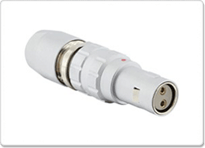 Push-pull connectors can provide significant space savings because the connection/disconnection procedure requires that a technician use only two fingers. This, in turn, allows multiple connectors to be mounted close to one another.
Circular connectors with push-pull coupling are very well suited to applications where reliability is critical and fast connect/disconnect is possible. Such applications include medical, instrumentation, soldier wearables, communications, and military vehicles.
PEI-Genesis: Your Partner for High-Voltage Connectors
Selecting the right coupling style for the circular connectors in your design can be challenging, but with help from the experts at PEI-Genesis, connector selection is easy. PEI-Genesis offers a wide range of coupling styles to make the selection process simple. Whether you need medical connectors for an innovative ventilator design, rugged connectors for a power generator or industrial connectors for a palletizing robot, our team of connector experts can help you navigate your design choices to find the optimal solution for your application.