As VP of Sales, Product, and Purchasing at PEI-Genesis, Simcha oversees the North American and EMEA departments to connect all regions, ensuring we are aligned in our day-to-day responsibilities to work as one team and reach our goals.
Simcha's career journey began at 18 years old when he served in the Israeli military as an airplane mechanic. It was his duty to maintain the McDonnell Douglas F4E to ensure it ran properly during take-off and landing. (Ironically, this piece of aircraft was primarily built with circular connectors!)
Three years later, Simcha attended university to receive his master's degree in industrial engineering. These experiences led him to spend the next two decades at Nisko, one of Israel's largest distributors of electronic components, selling semiconductors and passive components. At Nisko, Simcha served as COO as Acting General Manager, where he held relationships with various supplier partners.
In 2017, Simcha joined PEI-Genesis as Country Sales Manager. His first project had been to open the Israel Sales Office in Tel Aviv. Having been in the electronics and distribution business previously, Simcha understood the industry, supplier relations, and customer service well. A few years later, Simcha was promoted to oversee the sales teams in Israel, Turkey, and Italy. And soon after, he became the European Sales Director, managing several European regions.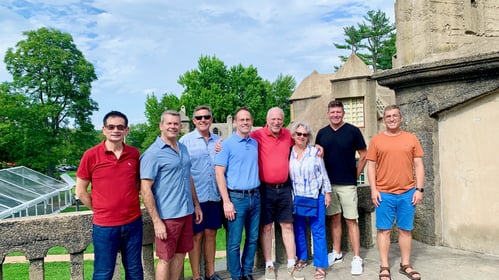 Simcha enjoys taking on new projects and finding a solution as a goal-oriented individual. His technical expertise, strong communication skills, and eagerness to learn allowed him to excel in his career, now leading global product, purchasing, and sales. "My biggest professional achievement is connecting the regions," he says.
Being in these collaborative roles, Simcha was given many opportunities to travel. He shares that his favorite part about his job has always been meeting people from all over the world. "I enjoy traveling and learning about people. We all have different mentalities and mindsets, which makes us each unique. Every person has a different way of thinking about life and even business. My job is to understand these differences and adapt to these changes to ensure we are all connected and striving toward the same goal as one big team."
Simcha's biggest advice to those aspiring to grow is to absorb as much knowledge as possible. Today, we are lucky enough to have a piece of technology that allows us to find answers in seconds. Simcha shares, "You must learn something new every day that interests you because it will only benefit you."
Given his experience and knowledge in the industry, Simcha believes the future will look a bit different. "In the next 5-15 years, everything will be electrified. From electric vehicles to tanks, robots, and airplanes, electrification is our future."
Watch the video below to hear Simcha talk about emerging markets.
Electric military vehicles are notably quieter than their larger combat counterparts. This quietness holds significant battlefield importance, preventing adversaries from detecting your presence. Additionally, electrification contributes to Europe's sustainability goals. This advancement plays a crucial part in the ever-evolving global landscape, from transportation with scooters and e-bikes to heating, cooling, and lighting in buildings and households.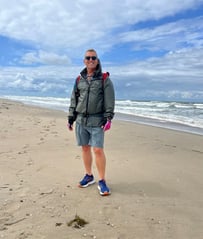 Beyond business, connectors, and life at PEI-Genesis, Simcha is very active outdoors. He appreciates nature and enjoys swimming, walking, and hiking, alone or with his family back in Tel Aviv. One day, he hopes to combine his love for traveling and hiking to climb Mount Kilimanjaro or trek The Annapurna Circuit in Nepal.
Of all Simcha's travels, his favorite spot remains the same. "You can have everything in Italy- good food, people, coffee, and nature!"
PEI-Genesis thanks Simcha for his years of service and the significant impact he has made. We look forward to seeing what else he accomplishes in the years ahead.