As sales for electric vehicles (EVs) continue to dramatically grow (due to a combination of policy support, improvements in battery technology, decreasing battery costs, more charging infrastructure, and new compelling models from automakers), managing future supply chains and production systems to keep growth trajectories on track is vital for any EV strategy. With global semiconductor shortages affecting design and production lifecycles in the automotive industries, designers need support from suppliers and distributors more than ever before, particularly regarding electric vehicle connectors.
Why Connectors for Electric Vehicles Are Important

Even though the EV market is growing, it faces very real competition. While there are many downsides to petroleum-based automotive solutions, their convenience is undeniable. Fuel can be pumped into virtually any vehicle with no difficulty, which is the opposite of electric vehicle charging. Every electric vehicle may have its own uniquely designed industrial connector, making connectors a serious issue for EVs.
EV Connector Challenges
Compatibility for most electrical devices isn't a challenge because standardized connectors and a nationwide standard mains voltage are used, keeping everything simple. While a reliable grid solves the issues with frequency and voltage faced by EVs, the connector specification remains difficult.
The connector problem is further complicated by EV manufacturers taking advantage of several EV charging modes, which include the following:
Mode 1 for slow charging from typical home outlets
Mode 2 for faster charging from specially designed home outlets
Mode 3 for commercial street-side charging points
Mode 4 for rapid, direct current charging
In addition, EV connectors must combine several key design features: They should:
Be ergonomic and easy to use
Be space-efficient
Include built-in safety features
Be capable of providing both AC and DC power
CCS Connectors: A Solution or Not?
CCS (Combined Charging System) connectors combine all these design features, so designers might think all problems related to EV connectors are solved. However, this isn't necessarily the case.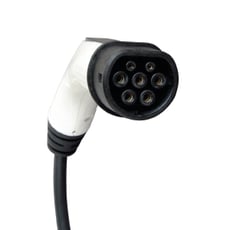 CCS connectors fulfill the customer requirements of an EV connector, but there is still much more to be done from an electrical engineering perspective. For example, the high voltages and currents present when an EV charges form the perfect environment for arcing between the contacts. While using a pilot signal goes a long way to mitigating this because any loss of continuity stops the charging immediately, it still does not fully prevent excessive resistive heating or damage to contacts.
It's important to remember that only a second of a high voltage arc between contacts would be enough to score and scorch them, leading to a system failure. If this damage occurs on a charging station, it would only mean replacing the connector. But if the damage occurs onboard the EV, people are left stranded with a dead car.
However, a little extra effort in the design of the contacts can pay dividends in mitigating this.
Amphenol RADSOK® Connectors
Consider Amphenol RADSOK® connectors, which use specialized hyperbolic geometry to provide robust, high-density mating between contacts. These high-power, harsh environment Amphenol connectors are designed to push against the respective contact to ensure a complete and reliable connection. They include a flat, high-conductivity alloy grid with high tensile strength properties that generates the high normal forces needed to achieve reliable conductivity. In addition, this high-conductivity grid provides a large surface area for conductance.
PEI-Genesis: Your Source for EV Connector Solutions
At PEI-Genesis, we understand the challenges related to EV connector solutions. Our team of connector experts is here to help you find the right connectors, so you stay highly competitive in the EV market. The Amphenol RADSOK® connectors are just one of many connector solutions within our massive inventory that meet the needs of even the most demanding EV applications.