As technology advances rapidly, artificial intelligence is being implemented in more military technologies to support personnel in combat. Many military divisions worldwide utilize artificial intelligence to power applications for defense systems and combat operations. Two emerging AI-powered technologies include electric ground combat vehicles and robotic dogs, which need reliable harsh environment connectors to operate effectively.
Military Electric Ground Combat Vehicles
AI-powered ground combat vehicles use a combination of sensors and computing power to drive on their own, locate an enemy and analyze their firearms while navigating terrain and detecting obstacles. Since AI synthesizes information and data to control military vehicles without human interaction, fewer team members are needed to drive these vehicles, thus freeing up soldiers to be utilized for other tasks such as managing battles or operating more advanced equipment.
Military Robotic Dogs
AI-powered robotic dogs are designed to enhance situational awareness to determine the team's safety, which includes testing hazardous areas to ensure it is safe for soldiers. Similar to real dogs playing fetch, these robots can fetch supplies during combat scenarios.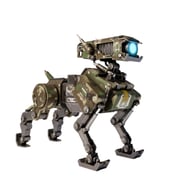 Among the sensors used are a set of front, rear, and side cameras to provide a 360° view. These omnidirectional capabilities allow them to navigate the terrain and operate effectively even in harsh environmental conditions combined with night vision. They also have radar systems for detecting potential threats at a distance.
As a system, the robotic dog's "vision" enables better protection of soldiers by detecting potential dangers and providing alerts before humans can. They are also utilized to gather and record data in the field so that soldiers can focus on other tasks rather than recording information on a laptop. This helps them save time and energy when in critical situations.
Products to Support AI and Autonomy
The military connectors must be highly reliable, meet applicable specifications, and maintain performance even in extremely harsh environments to support AI and autonomous applications. In this industry, harsh environments may include vibration that could result in connector disconnection, regular exposure to dust and water, and high temperatures.
ITT Cannon HDx™ Series
The ITT Cannon HDx™ Series are high-density circular connectors utilized when space and weight optimization are at a premium, which is the case with autonomous equipment depending on battery power. They support high-speed data transmission for mission-critical applications and are highly durable, as evidenced 5,000+ mating cycles rating.
ITT Cannon HDx™ connectors also have break-away or threaded locking options for quick and easy disconnect without damage, making them ideal for soldier-worn equipment. In addition, they are ideal for harsh environments and have been designed to operate at temperatures from -51 to 125°C and resist corrosion. These connectors are available with EMI protection crimp sleeves (and a crimping tool).
Amphenol 2M Series
The Amphenol 2M Series of lightweight, micro-miniature circular connectors maximize SWaP(size, weight, and power) and meet D38999 specifications for vibration and shielding but weigh less than standard D38999 connectors. Whether this product is for a soldier's headset, tactical or handheld equipment, airframes, or avionics boxes, the Amphenol 2M Series has application flexibility with multiple coupling types available to fit different electrical and mechanical requirements. Learn more about the Amphenol 2M Series in a case study featuring tactical ground robots by clicking here.
Souriau MIL-DTL-38999 Series III by Eaton
The Souriau MIL-DTL-38999 Series III is ideal for military applications, beginning with superior performance in harsh environments, including high vibrations (44g) and temperatures up to 200°C. To ensure the plug and receptacle remain intact, these Mil-Spec circular connectors have a quick screw coupling with a self-locking mechanism.
The Souriau MIL-DTL-38999 Series III has a high-density layout with up to 128 contacts and is qualified for D38999, EN3645, and BACC63 specifications. Ideal for military ground vehicles, communications, and avionics applications, these connectors support a broad range of technologies.
PEI-Genesis Provides Solutions for AI in the Military
PEI-Genesis has durable military connector solutions suitable for autonomous technology used by the military worldwide. These products can securely support applications such as robotic dogs and electric ground combat vehicles in harsh environments where dust, dirt, pressure, and vibration can negatively impact performance. As a harsh environment connector distributor, PEI offers solutions from various industry-leading suppliers. If the design is complex, PEI will custom engineer a product from one of these suppliers to fit your application needs.