eVTOLs, also called air taxis or flying taxis, are a rapidly evolving market experiencing equally rapid technological evolution. This year, United Airlines partnered with Archer Aviation to launch electric aircraft to serve as air taxis. These air taxis are in the testing phase, but they will be operational within the next few years, allowing customers onboard. To make this happen, interconnect solutions are needed as they are a critical part of engineering eVTOLs.
Introduction to eVTOL
eVTOL is an acronym for electric vertical take-off and landing aircraft, and these aircraft are designed to fly in crowded cities, reducing pollution, lowering emissions, and enhancing safety. Flying air taxis are an environmentally friendly transportation solution, considering these aircraft are either fully electric, hybrid, or powered by electric hydrogen.
eVTOL is the future of transportation, and dozens of companies are working hard at engineering their own designs. According to statistics compiled by Statista, the eVTOL market is expected to reach around one billion U.S. dollars in revenue by 2025.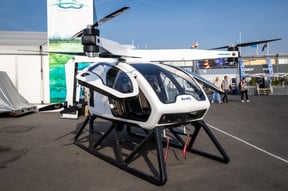 Because eVTOL is still an emerging market, the technology behind it is still in the testing phase. The Federal Aviation Administration (FAA) in the U.S. and the European Union Aviation Administration (EASA) are working on the diagnostic side of eVTOL, including the standardization of interconnects.
Connectors are critical for delivering power, data, and signals for the urban air mobility market. In addition, various subsystem applications, including propulsion motors, controllers, batteries, inverters, sensors, and infotainment, require interconnect solutions.
What to Consider When Building an eVTOL
A substantial amount of electrical power is needed to enable vehicle takeoff and maintain flight, making SWaP (size, weight, and power) critical to application performance. Other variables include distance, testing, and infrastructure.
For distance, factors include how far they are expected to travel and if they are powered by electricity or hydrogen. Connectors must be highly reliable and able to withstand high voltage.
Safety is a significant concern. For example, these vehicles must withstand regular shock and vibration loadings and harsh environmental conditions. Furthermore, passenger safety is the primary concern.
Are people able to get from point A to point B safely?

How reliably does the eVTOL perform in dangerous weather conditions?
Some safety features include redundant propulsion and flight control systems, advanced sensors and avionics, and fail-safe mechanisms for a safe landing, all requiring data transmission connectors that offer consistent performance regardless of operating conditions.
In addition, there are specific infrastructure needs for eVTOLs, such as helicopter pad charging stations, of which there needs to be more. These charging stations must be able to provide high-voltage, heat-controlled, and fast charging while handling outdoor environments.
Three Product Solutions to Support eVTOL
Three product solutions to support the needs of eVTOLs include the following:
ITT Cannon CCS1 charging system for fast charging and high-voltage needs.
Amphenol high-voltage 38999 connectors which are engineered to provide high-voltage solutions for excellent performance.
Amphenol OCS connectors for reliable data transmission in harsh operating environments.
ITT Cannon CCS1 Charging System
The ITT Cannon CCS1 EV fast charger is an innovative liquid-cooled high-power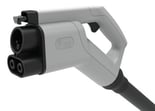 charging solution with a connector, cable, and cooling unit. The new Gen 2+ contact system utilizes a canted coil design to deliver extended lifetime usage while minimizing stress, misalignments, and power loss. In addition, the dielectric cooling liquid cools the cables and the connector's contact system, resulting in effective heat dissipation.
The ITT Cannon CCS1 EV fast charging system provides continuous charging up to 500A at 1,000V. In addition, these connectors have low contact resistance, allowing them to perform in harsh environments. As a result, these are an excellent choice for eVTOL charging stations.
Amphenol High Voltage 38999 Connectors
The Amphenol HV38999 connectors provide high-voltage solutions for next-gen aircraft power. These connectors are an expansion of Amphenol's widely used MIL-DTL-38999 series and are designed to meet or exceed 38999 specifications. They provide excellent high-voltage solutions for next-generation aircraft requirements, including eVTOL.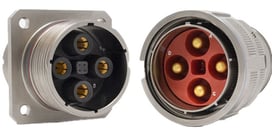 Insert optimizations allow these 38999s to carry high voltages and large currents at altitude safely, tested up to 1200 VAC/1500 VDC to remain partially discharge free at 50,000 feet. They also include dual interlock circuitry for increased shock and vibration performance and are available in all MIL-DTL-38999 shell configurations and finishes while utilizing existing AS39029 type silver plated power contacts.
Amphenol OCS Connectors
Amphenol OCS connectors (Oval Contact System) are high-speed data transmission connectors that utilize a differential Twinax type contact system, providing many advantages for high-speed data transmission. They support data rates up to 10 Gbps per pair and protocols such as HDMI, SATA 3.0, 10G Base T, and Serial RapidIO.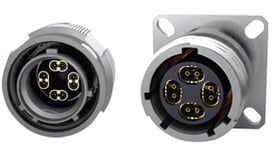 Amphenol OCS connectors offer improved signal integrity through reduced crosstalk. They are an excellent option for the harsh environments faced by eVTOL, with an operating temperature range of –65 °C to 175 °C and meeting the environmental requirements of MIL-DTL-38999. In addition, they have a front-release, rear-removable contact system for easy repair and various insert arrangements available.
Next Steps for Your eVTOL Connector Needs
PEI-Genesis has a dedicated team of technical engineers to support your design challenges. Depending on your requirements, they will help identify a catalog-off-the-shelf solution or a custom one. We can build quick-turn prototypes based on PEI's large component inventory to test the product within your electronic system, supporting all your eVTOL connector requirements.