Continuing our exploration of space is often met with a complication. Some things are impossible for humans at this time because of environmental issues and unprecedented conditions found beyond Earth's atmosphere. However, systems and devices with AI (Artificial Intelligence) have proven invaluable in allowing us to perform remote exploration and scientific experiments.
AI in Space
Space missions and scientific tasks depend heavily on AI, the most common being satellite systems and autonomous rovers. And while each one has its requirements and challenges, they also have several features in common.
Satellites
Thousands of satellites are orbiting the Earth for communication, earth and space observation, technology developments, and more. These satellites use AI algorithms to gather and process data efficiently. Some satellites are configured to take images when specific signals are detected. In contrast, others may have onboard technology to filter through images to eliminate those that are not helpful. In other situations, satellites may be designed to use AI to analyze signal data and detect problems.
Autonomous Rovers
AI is used in autonomous rovers to drive themselves and gather information. Massive amounts of data are collected and processed by AI in these systems to enable self-dependent features. Such features allow these rovers to autonomously explore a planet's surface, safely roaming around sand dunes, craters, and other hazardous terrains to gather scientific data.
Perseverance is an autonomous rover on Mars, where it collects data to support future human missions and searches for signs of microscopic life previously on the planet. It uses an AI-powered device called the Planetary Instrument for X-ray Lithochemistry, or PIXL, to gather data relevant to the program and critical AI systems to support its autonomous exploration.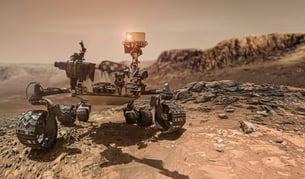 UAE's lunar rover, Rashid, is going to the moon in November 2022 and is well-equipped with the latest AI technology to help it achieve its mission: spend two weeks gathering data about lunar soil, the petrography and geology of the moon, dust movement, and more.
Reliable Connectors to Support AI in Space
The data used by AI systems in space applications must be transmitted in a reliable, accurate manner -- and that depends heavily on the type of connectors used. In addition, space connectors must be rugged enough to handle extreme space conditions, whether it involves satellites or autonomous rovers.
In addition, they must transmit data accurately, which requires special shielding to protect the data from stray signals or the effects of radiation. And many space-related designs have severe constraints for space and weight, making size and contact density critical. Two types of connectors have proven especially suitable for use in AI systems for space applications: ITT Cannon MDM Series and Souriau 8D Series connectors.
ITT Cannon MDM Series | 83513-Style Micro-D Connectors
The ITT Cannon MDM Series is a lightweight solution for AI-dependent satellites and rovers. They have been engineered to resist shock and vibration. These Micro-D connectors also include a silicone interfacial seal to prevent environmental pollutants, including dust and humidity, from accessing the contacts when the connector is sealed. The ITT Cannon MDM product line also has a twist pin contact design that expands outwards to create seven contact points for high mating reliability and is durable to 10,000 cycles.
Souriau 8D Hermetic MIL-DTL-38999 Series III
Souriau 8D Series MIL-D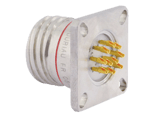 TL-38999 Series III connectors are hermetically sealed with a glass fused insert to resist large differences in pressure, allowing top performance with an extremely low leak rate. As hermetically sealed connectors, they are designed to thrive in harsh environments where extreme temperatures are prevalent. Souriau 8D Series MIL-DTL-38999 Series III connectors are primarily used in sensors, valves and flow meters, vacuum pumps, and actuators.
PEI-Genesis: Your Partner on Earth and in Space
Space applications increasingly depend on AI technology to achieve their goals and accomplish missions. Massive amounts of data must be transmitted and processed, requiring special electrical connectors. PEI-Genesis understands the various requirements that such connectors must meet. Not only do we have them in stock, but our connector experts can help you navigate the various options and features to find your design solution.
At PEI-Genesis, we also understand the requirements that set space-grade connectors apart from other connectors. This is why our manufacturing facilities have state-of-the-art equipment allowing us to successfully outgas a connector in a matter of hours rather than weeks.