When a connector is needed for an application that involves travel beyond the Earth's atmosphere, it must be a space qualified connector. These are high-performance connectors that undergo rigorous testing for issues, such as outgassing and residual magnetism, and offer superior performance and reliability in harsh service conditions.
What Constitutes a Space Grade Connector?
A space grade connector is suitable for use in aerospace, spacecraft, earthbound test equipment, and satellite communications, and they also meet the stringent requirements of high-performance military applications and medical use. Space qualified connectors must be lightweight, compact, and able to withstand the effects of harsh environments, including extreme temperatures (both hot and cold), shock loadings, and vibration. The material requirements and regulations for this type of connector are very strict due to potential issues such as outgassing and residual magnetism. In addition, because of the difficulty involved with replacing defective parts once they are in service, they are subject to zero-defect requirements.
Critical Requirements for Space Connectors
There are two critical requirements that set space grade connectors apart from other connectors: connector outgassing and residual magnetism.
Outgassing
Outgassing (also called gas-off) is a major concern for space grade connectors. Materials such as elastomers and plastics can release Volatile Organic Compounds (VOCs) in the form of gas or vapor slowly over time. These VOCs result in contamination that can seriously affect the performance of mission-critical equipment. For example, in space applications, outgassing could leave residual condensation on a camera lens or degrade the performance of CCD sensors. In medical applications, outgassing will compromise an otherwise-sterile environment.
For a connector to qualify as a space connector, the VOCs must be extracted. This is typically accomplished through baking the connectors at an elevated temperature in a vacuum-sealed oven. After this process is complete, the connectors are tested to verify that they meet the applicable standards (e.g., NASA, ESA, or military) for outgassing.
Residual Magnetism
Residual magnetism can interfere with the performance of nearby equipment and result in false readings, which could be catastrophic depending on the equipment and sensors involved. For that reason, space grade connectors must meet requirements involving residual magnetism. Non-magnetic materials are used where possible, often including special copper alloys that not only have low residual magnetism but can handle the high temperatures that may be involved.
Testing is accomplished using a fluxmeter following NASA space grade requirements for electric components.
Space Grade Connector Solutions
There are multiple connector product lines available to meet different space grade connector needs, with manufacturers such as TE Connectivity, ITT Cannon, and Amphenol.
TE Connectivity DEUTSCH DTS Connectors
TE Connectivity's DEUTSCH MIL-DTL-38999 series III / EN3645 metal DTS connectors were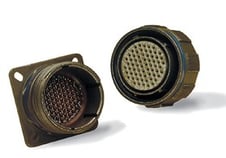 originally designed for aerospace and military use. These miniature metal circular connectors offer very high-density contact arrangement and come in a variety of D38999 backshells. They have a self-locking coupling and are environmentally sealed, triple-lead threaded, and EMI-RFI shielded.
ITT Cannon NM / NMB Space D-Sub
ITT Cannon offers NM / NMB D-Sub series connectors that are qualified by NASA/GFSC and ESA for space applications. These high-reliability D*M and D*MA connectors are comparable to MIL-C-24308 and are also available as h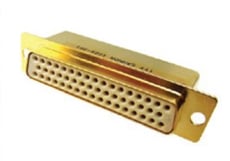 igh-density D*MA crimp connectors. The shells are available as gold-plated, machined aluminum, brass, and stainless steel. Furthermore, these space grade connectors meet the tests for outgassing and residual magnetism, making them ideal for applications including satellites, space vehicles, and earthbound test equipment.
Amphenol JT Series Connectors
Another excellent product line of space qualified connectors is the Amphenol JT MIL-DTL-38999 series II. These reliable connectors have a very wide operating temperature range of -85°F to +392°F (-65°C to +200°C) and are environmentally sealed. These Amphenol JT connectors require only a fraction of the space needed to mate with most other high-performance connectors, including all MIL-DTL-38999 series II connectors.
Dependability in the Most Extreme Environments
Space grade connectors must meet some of the most stringent requirements for critical characteristics such as connector outgassing, residual magnetism, EMI-RFI shielding, ability to seal out the environment, compact size, and, most of all, reliable performance. Product lines such as the DEUTSCH DTS connectors, ITT Cannon NM/NMC D-Sub connectors, and Amphenol JT series are excellent options for not just spacecraft but aerospace, military, and medical applications.
PEI-Genesis can provide solutions to meet space qualified connector design needs. In addition to the product lines discussed above, we have the ability to outgas electroless nickel-plated versions of MIL-DTL-38999s to convert them into space grade Class G D38999s. Our manufacturing facilities have state-of-the-art equipment that allows us to successfully outgas a connector in a matter of hours, rather than weeks. The requirements for space grade connectors are critical, along with having a trusted partner so performance is always guaranteed.