As technology advances and space travel becomes more accessible than in past decades, it isn't only highly trained astronauts exploring space. Now, celebrities such as William Shatner and billionaires like Jeff Bezos are venturing into orbit – and the general public could soon be next.
NASA is expecting SpaceX and Boeing to build spacecraft suitable for transporting passengers into space, while Blue Origin and Virgin Galactic are actively working on space tourism to make travel cheaper and more accessible.
While modern space travel continues to evolve, there is one key component in the success or failure of any space excursion: suitable space-grade connectors.
The Current State of Space Travel
Space travel has changed drastically since humankind's first foray beyond our atmosphere. The Orbital Reef is a new commercial space station that will allow anyone to experience space flight and see Earth from above. Companies such as Boeing, Sierra Space, Genesis Engineering, Redwire Space, and Blue Origin are all collaborating to make this possible.
Jeff Bezos, founder and former CEO of Amazon, took a quick trip into space in his suborbital rocket system, the Blue Origin New Shepard. And Richard Branson, founder of the Virgin Group, launched into space on the Virgin Galatic Unity 22 rocket.
Elon Musk, CEO of Tesla Motors and founder of SpaceX, recently launched 46 more Starlink internet satellites into space in its 32nd mission of 2022. Currently, there are more than 2,500 Starlink satellites in orbit. The goal of broadcasting these satellites into space is to provide consumers with high-speed, low latency internet service that will reach as many people as possible globally.
When these and other spacecraft launches reach hundreds of miles above Earth's atmosphere, electrical connectors are critical in making their missions successful.
Hermetically Sealed Connectors
Hermetically sealed connectors, designed for military aerospace and engineered to perform in extremely harsh environment applications, are one example of aerospace connector solutions. These connectors operate in severe weather conditions, high altitudes, and extreme temperatures and pressures. They are also air and gas-resistant and capable of protection against moisture and bacteria.
Satellites, rockets, rovers, and space suits depend on hermetically sealed connectors — circuits, sensors, switches, ignitors, transistors, microchips, and more all rely on this connector type. In aerospace equipment, hermetically sealed connectors are crucial components for engines, landing gear, wing flaps, tail rudders, and instrument panels.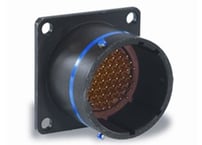 TE Connectivity DEUTSCH and ITT Cannon are two major manufacturers of hermetically sealed connectors well-known for their quality and first-class engineering.
Building A Space Vehicle
Even though some space vehicles may seem vastly different, there are four main components of a rocket common to them all:
Structural system
Propulsion system
Payload system
Guidance system
Each of these complex systems depends heavily on reliable, harsh environment electrical connectors. These aerospace connectors must meet a host of stringent requirements and standards related to vibration, extreme temperatures and pressures, outgassing, magnetism, and even bacteria resistance. Two of the most common connector solutions are hermetically sealed and space-grade connectors.
Space Grade Connectors
Space-grade connectors are crucial to spaceflight and must pass strict testing standards, including two requirements that set them apart from other connector solutions: outgassing and residual magnetism. Outgassing is a phenomenon that occurs when plastics and elastomers release volatile organic compounds that can put the performance of mission-critical equipment at risk. Residual magnetism can interfere with equipment and give false readings that jeopardize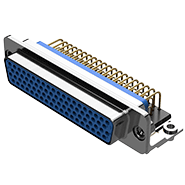 space missions and the crew responsible for them.
Connector solutions that qualify as space-grade include:
PEI-Genesis: Your Trusted Partner in Space
As an authorized distribution partner of industry-leading manufacturers, PEI-Genesis understands the importance of supplying high-performing electrical connectors that can operate safely in the most extreme environments, including space. Contact a PEI-Genesis expert today to discuss reliable space-grade connectors for your next venture in space.