Analog and digital signals use changes in time and amplitude to represent data for transfer and reception. From controlling UAVs for defense applications to sharing information between devices at home, their use has become ambiguous, being used in everything. First, engineers must carefully consider the interconnect solution for these signals to be sent and received correctly.
Analog and Digital Signals
Signals represent and transfer data based on time (often referred to in terms of frequency) and amplitude. Systems need signal connectors to use the information transmitted by signals, whether those signals represent video, audio, sensor data, or control instructions.
Analog Signals
Analog signals utilize a continuous electrical signal to convey data and more complex information such as voice, image, and video. Analog signals work well with audio and video recordings, physical sensors, image sensors, amplification devices, radio systems, and control systems.
Changes in parameters such as light, sound, temperature, pressure, position, or other physical phenomena generate analog signals. These signals then represent a time-varying quantity (e.g., pressure, change in light) using another time-based variable, such as current or voltage.
Digital Signals
Digital signals are non-continuous electrical signals with great flexibility in their use. One unique feature of these signals is the ability to encrypt and compress digital data, making it a secure option for data transfer. As a result, digital signals are used extensively in several industries, including networking and data communications, broadband and cellular communications systems, computing equipment, and data transmission devices.
Sure-Seal Connections® HDMI Connectors
Sure-Seal Connections® HDMI connectors can be used with both analog and digital signals. Designed for industrial applications and harsh environments, these HDMI connectors are IP67-rated and environmentally sealed to prevent the ingress of dust, water, chemicals, and other environmental contaminants. Additionally, they have a wide operating temperature range of -20°C to 80°C for the wire leads and -40°C to 85°C for the connector itself.
Sure-Seal Connections® HDMI signal connectors are manufactured with a rugged nylon body, a foolproof gasket to eliminate over-tightening, and contacts that are copper alloy and gold-plated. These connectors are durable (1,000 mating cycles) and highly reliable. Molded cable assemblies are available in standard and customized lengths.
High-Frequency Signals
Analog and digital signals are very different in transmitting the same data but still involve frequency and amplitude at the core of how they operate. High-frequency signals, which can include frequencies up to 300 GHz, require a different connector solution to account for issues specific to the frequency. Examples of connectors used for high-frequency applications include RF and microwave connectors.

RF and Coaxial Connector Solutions
RF/Coaxial Cable Connectors are high-frequency connectors that support applications with frequencies up to 67 GHz. These connectors are durable with a long life cycle, providing reliability and strong electrical performance even in harsh environmental conditions. In addition, RF/Coaxial cable connector solutions from PEI-Genesis are available with environmental sealing ratings up to IP-68 for full protection against dust, water, and other potential contaminants.
Amphenol SV Microwave Connectors
The Amphenol SV Microwave connectors offer solderless PCB connectors, supporting frequency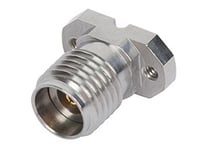 ranges between 26.5 and 65 GHz. They are fast and easy to install and offer the durability and performance needed for military, aerospace, and satellite applications, as well as high-speed digital instrumentation and other test and measurement applications. In addition, Amphenol SV microwave connectors are available in launch styles such as stripline, CPW/Microstrip, and PCB edge.
PEI-Genesis: Your Partner for Analog and Digital Interconnect Solutions
Whether you are designing a high-speed instrumentation system that needs microwave connectors, an entertainment system that supports extremely high-resolution video signals, or a harsh environment industrial control system that can send and receive digital signals, PEI-Genesis has the solutions you need. Contact us today to speak with one of our PEI experts to find the connectors you need that provide the performance, durability, and customization options for your design.