Since their origins in the 1930s, coaxial RF (Radio Frequency) electrical connectors have advanced their capabilities and are considered reliable, rugged, high-performance connectors. Today, these RF connectors — designed to work at radio frequencies in the multi-megahertz range — are used in various markets, including telecommunications, aerospace, industrial equipment, and military applications.
The Evolution of RF Connectors
Amateur radio enthusiasts with engineering backgrounds began experimenting with VHF (Very High Frequency) connectors around 1926. The origin of UHF (Ultra High-Frequency) connectors can be traced back to the early 1930s, when both VHF (Very High Frequency) and UHF technology were still in their earliest stages. Both UHF and VHF connectors are still used today in amateur radio applications and citizen's band and marine radio.
The type N connector, often referred to as an N connector, was one of the first connectors capable of carrying microwave frequencies. This particular connector was invented in the 1940s by Paul Neill of Bell Labs (who the connector was named after), and modern versions continue to be used in low-frequency microwave systems.
Later, the BNC connector was co-created by Paul Neil and Carl Concelman (who is also credited with the C connector) and patented by Amphenol in 1951. The goal behind its development was to minimize wave reflection/loss. Originally used for military applications, it now finds use in RFs up to 2 GHz and is often used in connection with the transfer of composite video on commercial video devices.
The SMA (Sub-Miniature A) RF connector — originally named the 'BRM' (Bendix Real Miniature) connector — was designed in 1958 by James Cheal at Bendix Research Laboratories. Development of the SMA connector continued four years later in 1962 by Omni Spectra. At that time, it became known as OSM (Omni Spectra Miniature). However, it wasn't until 1968 that it received its current designation of SMA as it was incorporated into MIL-C-39012. Now, SMA connectors are used in applications ranging from RF power amplifiers to Wi-Fi antenna systems.
Modern RF Connectors
Coaxial RF connectors have evolved to offer strong electrical performance — many capable of withstanding dust and water exposure with environmental seal ratings up to IP68. The Sure-Seal RF Connector Series and TE Connectivity Mil-Spec RF Connectors product line are two examples of such RF connectors.
Sure-Seal RF Connector Series
The Sure-Seal RF connector series is available in both non & waterproof permutations, allowing the electrical connector to be used in solutions for harsh environment communication systems. They are reliable and rugged electrical industrial connectors fully compatible with MIL-STD-348B. The waterproof sealed version connectors are well adapted for use in control networks, harsh environment outdoor applications, and mission-critical designs that necessitate a dependable connection.
The Sure-Seal RF connectors also meet or exceed United States DOT (Department of Transportation) requirements for vibration, shock, salt water spray and immersion, temperature cycling, and industrial gas and petroleum derivatives exposure.
This RF connector series is suitable for use with flexible, semi-flexible, and semi-rigid cables. In addition, the connector and cable assemblies are available in a variety of permutations, including TNC, BNC, SMA, and more.
TE Connectivity Mil-Spec RF Connectors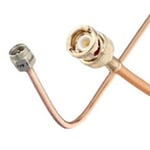 The TE Connectivity MIL-Spec RF series of connectors are MIL-PRF-39012, MIL-C-83517, and MIL-C-55339 qualified. These military connectors have been specifically engineered to provide reliable performance in extremely harsh environments while maintaining key characteristics such as low insertion losses and excellent VSWR (Voltage Standing Wave Ratio).
TE Connectivity Mil-Spec RF connectors are suitable for applications where reduced weight, high density, and durability are required. They have been designed to accept multiple ohm mini coax cables and find many uses in military, defense, and aerospace applications.
PEI-Genesis: Your Source for RF Connectors
Whether you need Mil-Spec RF connectors for a harsh environment or DOT-approved RF connectors for automotive applications where salt-spray and shock loadings are common, PEI-Genesis can help. Our large inventory of off-the-shelf electrical connectors will give you confidence in knowing you will find the best option for your design specifications and budget. PEI-Genesis' team of connector experts and engineers will work with you to find the right connector solution for your application or help you develop a custom-engineered one.