PEI-Genesis, a global leader in the design and assembly of custom engineered connectors and cable solutions, has recently introduced the Series Five from Amphenol Aerospace, an upgraded solution from the 38999 Mil-Spec connector designed to support new military and space-grade technology. This new series combines all of the standard 38999 capabilities into a lighter, smaller, and more compact solution. On average, it is about 20% smaller, up to 50% lighter, and has higher voltage capabilities than 38999 Series III connectors.
Amphenol Series Five saves on weight and space without sacrificing signal density or operating voltage. This new military circular connector solution for customers can be easily used as a drop-in replacement for a current solution using a D38999 Series III connector. Redesigning is not required since the Series Five footprint is the same as the 38999 Series III connector. The two connectors have the same insert layout, but now they can be utilized in a smaller shell size.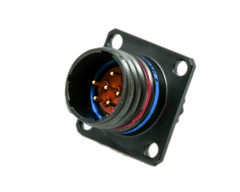 Just like MIL-DTL-38999 connectors, the Series Five can perform in any harsh environment with wind, moisture, vibration, shock, and extreme temperatures. In other words, the Series Five is a custom interconnect series using mil-qualified components, but it is not a Mil-Spec product.
Amphenol Series Five connectors target the same markets as the standard 38999s but as an improved solution. The Series Five is designed for military and aerospace markets to support applications including mil-avionics, military ground vehicles, satellites, and launchers.
Advantages of Using Amphenol Series Five Connectors
One of the most evolved components in Series Five connectors is the coupling method. These military circular connectors have a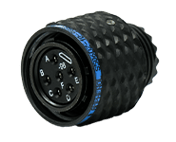 quick coupling double start thread, and the coupling nut has a new "Diamond Grip" design to enhance its ease of you for consumers. For a secure fit, it features a retention clip with full metal contact and a joint without any dielectric bond.
As mentioned in a video from Amphenol Aerospace, "For every pound an airline saves, it equates to roughly 14,000 gallons of fuel savings per year." Reducing weight and space in aerospace applications allows room for other devices and saves millions of dollars on aircraft.
Features and Design
Amphenol Series Five connectors boast exceptional environmental sealing capabilities with the use of triple web grommets and radial main joint gaskets to ensure excellent fluid ingress protection and maximum shell-to-shell conductivity. These circular connectors can be submerged under one meter of water for up to an hour, making them an ideal solution for demanding environments.
Moreover, Series Five connectors' new shell design enhances its shielding capabilities by further amplifying its shell-to-shell conductivity. Additionally, to prevent damage during mating, the Series Five is scoop-proof and designed to protect contacts. Lastly, the device uses standard M-85049 accessory threads, providing users with a seamless experience.
To learn more about the benefits and features of Series Five connectors, watch Taylor Eisenhauer, PEI-Genesis Product Manager for Military and Aerospace products, dive into this in more detail. Check out the Product Preview below:
PEI-Genesis: Your Destination for Amphenol Series Five Connectors
PEI-Genesis now offers Amphenol Aerospace Series Five connectors globally. To ensure the Series Five fits your requirements, we also offer design-in opportunities with our team of technical engineers. To submit a request, please click here.
As a drop-in replacement for the D38999 Series III connectors, you can easily swap in the Series Five to save on space and weight in your current application to ultimately save you money. Contact a sales rep. or navigate to your MyPEI account to place your order today.