PEI-Genesis is constantly expanding its portfolio to provide additional interconnect solutions for customers in various industries. Over the last few months, PEI has added three new product lines: Anderson Power Products™ SBSⓇX-75A Series for use in harsh outdoor conditions, Positronic MACH-D space grade connectors, and ITT Cannon EV chargers for the electronic vehicle industry.
Anderson Power Products™ SBSⓇX-75A Series
The Anderson Power Products™ SBSⓇX-75A Series offers sealed waterproof connectors that combine power and signal to serve aggressive outdoor applications such as material handling, lawn/garden equipment, automation, and power equipment. It is also widely used in agriculture, construction, marine, industrial, and commercial industries.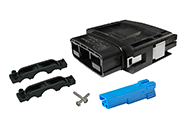 The Anderson Power Products™ SBSⓇX-75A Series is ideal for any application that requires an environmentally sealed, high-power interconnect solution. They are engineered to operate at 600 V/135A in extreme temperatures ranging from -20°C to 105°C. This series of connectors have an IP68 rating in mated conditions to protect against dust, water, and shock and is designed to withstand up to 5,000 mating cycles.
In addition, the Anderson Power Products™ SBSⓇX-75A product line has positive metal latches to prevent accidental disconnects due to vibration. It includes built-in cable clamps to allow strain relief on the wires. These features further contributed to their reliability and performance.
These rugged, waterproof connectors come with 2 power contacts and up to 4 auxiliary contacts. They are made with a thermoplastic shell with silicone o-rings, and PEI-Genesis can offer full kits that include housing, signal housing, latches, cable clamp, hardware, and front o-rings.
Positronic MACH-D Series
Another new product line available through PEI-Genesis is the Positronic MACH-D Series of high-performance, mechanically robust space grade power and signal connectors solutions that exceed the M24308 specification. They are designed for mission-critical applications where failure is not an option, including military, spaceflight, aerospace, and defense, but are also used in information technology and communication. The MACH-D Series consists of 3 types of connectors: MCD (standard density), MCDD (high-density), and MCBX (Combo D).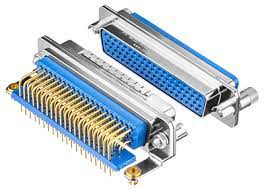 These D-Sub connectors have precision machined shells manufactured from stainless steel, protecting against mechanical factors such as shock, vibration, and impact -- and superior EMI shielding. The stainless steel means the Positronic MACH-D Series will not easily corrode, nearly outperforming any plating material option in a salt spray test. Its grounding strip provides excellent electromagnetic compatibility, allowing the application to operate in harsh environments. These connectors are available as IP67K when ordered with the IP-rated panel mount accessories.
ITT Cannon EV Series
PEI-Genesis is franchised to sell the full line of ITT Cannon EV charger connector series, which includes anything from AC to DC Fast Charge to liquid-cooled 500A HPC solutions. These connectors are used in e-mobility and EVSE (Electric Vehicle Supply Equipment). Specific applications include fleet trucks, EV mass-transit vehicles, agriculture vehicles, and public

charging stations.
Four products are currently in stock in the US, while three different ones are in stock in the UK.
US Stock:
J1772 J2CE: Electric vehicle charging connectors designed for the Japanese and U.S. markets and provides both low contact resistance and a Gen 2+ contact system.
J1772 J2IV: Electric vehicle charging inlet designed for Japanese and U.S. markets and is available for single-phase charging systems.
HPC CCS1 EV: HPC is a liquid-cooled, high-power charging solution comprised of a connector, cable, and cooling unit that enables continuous charging and is available in CCS1 and CCS2 variants.
IEC ECCV: High power charging connectors designed for the European market and are available for single and three-phase charging systems.
UK Stock:
IEC ECCV: Electric vehicle connector coupler, stocked with the full range of current ratings available and the standard cable length for the European market.
IEC ECIER: Electric vehicle charging outlet is an EVSE rear mount solution available in extensive customization options
IEC ECIV: Electric vehicle side charging inlet that is an IEC (Type 2) solution that has a minimum of 10,000 mating cycles.
IEC ECCE: Electric vehicle charging plug is a type 2 mode 3 EVSE solution that has a current rating of up to 63A with the durability of 10,000 mating cycles.
The ITT Cannon EV charger connector series offers reliable performance in harsh environments. They are IP44-rated and have operating temperatures ranging from -30°C to +50°C, making them resistant to high temperatures and dust/fluid intrusion. They support charging capabilities up to 75 A at 600V for one-phase and 3-phase charging, and the chargers are designed to work safely in minutes.
PEI-Genesis: Your Partner for Interconnect Solutions
At PEI-Genesis, we are fully stocked and ready to support you every step of the way, from design to delivery. We have these new products in our warehouses across the globe in North America, Europe, and Asia-Pacific to deliver products to your door within days. If you need a space grade connector, an EV charger solution, or rugged industrial connectors, contact an expert from PEI-Genesis to discuss our latest products.