Thousands of satellites orbit the Earth, serving diverse roles in communication, space observation, navigation, surveillance, and monitoring of natural disasters, to name a few.
As technology advances, the number of satellites launched into space increases, requiring highly reliable connectors capable of withstanding the harsh environment of space. Between extreme temperatures, debris impact, electromagnetic interference (EFI), and radiation, the environment beyond Earth's protective atmosphere presents many risks and challenges. With these conditions, engineers must take every obstacle into consideration before sending satellites into orbit.
The Many Applications of Satellites
Satellites have a multitude of functions in our modern world. A prime example is the necessity of satellites for telecommunications and broadcasting. As the demand for high-speed communications continues to rise, so does the need for satellites.
Scientific researchers heavily depend on satellites for astronomy, space exploration, and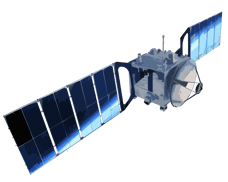 climatology because of their ability to oversee large areas of Earth's remote locations. Satellites are a vital tool for Earth observation, allowing researchers and meteorologists to collect data on Earth's surface, atmosphere, oceans, and ecosystems. Similarly, they have become indispensable to modern navigation, including applications as varied as GPS for transportation, logistics, agriculture, and emergency services.
Categories of Satellites
Satellites are categorized according to the altitude at which they operate, giving insight into their intended uses. The following are the most common categories:
Low Earth Orbit (LEO):

Closest to Earth, taking approximately 90 minutes to orbit, and provides high-resolution images of Earth's surface.

Medium Earth Orbit (MEO):

Orbits Earth in less than 24 hours and performs radio and navigation tasks.

Geostationary Orbit (GEO):

Orbital period of 24 hours, providing applications such as

telecommunications, broadcasting, and weather forecasting.

Polar Orbit:

Passes nearly above the north and south poles of the Earth during each revolution with an approximately 100-minute orbital period. They provide image and climate data, including temperature and moisture readings.

Highly Elliptical Orbit (HEO):

Orbital period typically ranges from 12 to 24 hours with a different shaped orbit than LEO, MEO, and GEO. Their elliptical orbit makes them well-suited for remote sensing, satellite radio, and communications applications.
Connectors Needed to Support Satellites
Not only do these connectors need to be reliable and durable, but also lightweight. This is an important factor when designing a satellite for many reasons.
Firstly, launching satellites into space is expensive. Heavier payloads require more powerful rockets, which are more expensive to manufacture and launch. These larger rockets require more fuel, increasing expenditure once more, while lightweight satellites are more fuel-efficient, extending their operational lifetime and reducing maintenance cost.
Additionally, lightweight satellites are more flexible. Since they need to be placed into specific orbits or positions, lighter spacecraft are easier to maneuver. With these lighter payloads, many different launch vehicles are available to transport these satellites since launch vehicles have weight and size limitations.
Lastly, reducing a satellite's weight means a more compact design, essentially improving its ability to cope with environmental challenges.
Several highly effective and lightweight products from well-known brands, like Positronic, Eaton, and Lemo, are readily available to support the connector needs of satellite systems.
D-Subminiature Connectors
D-Sub connectors have parallel rows of contacts surrounded by a D-shaped metal shell. This metal shell not only helps with proper mating but also provides support, assists in ensuring correct orientation, and can also provide EMI shielding. Their rectangular design allows for weight and space savings, resulting in a lighter design overall.
The Positronic MACH-D product line are D-Sub connectors with three series available: MCD, MCDD, and MCBX. Each connector has precision machined shells that provide robust protection against shock, vibration, and impact. In addition, these shells feature IP67 waterproof sealing and provide EMI shielding. Positronic MACH-D connectors offer standard and high-density signal contact arrangements. Furthermore, these connectors offer hybrid versions that combine power and signal into a single connector body, enabling the flexibility to work within a variety of satellite applications.
38999 Connectors
38999 connectors meet the stringent requirements of the space environment and are built with rugged materials and construction techniques that make them highly durable. Their design allows them to withstand vibrations and mechanical shocks experienced during launch.

Eaton's Souriau 8D D38999 Series III connectors are well-suited for satellite applications, as they are equipped with quick screw couplings and a self-locking mechanism. The series includes a unique anti-decoupling mechanism, ensuring that the connector plug and receptacle remain coupled even under the harshest environmental conditions.
Moreover, the Souriau 8D D38999 Series III can withstand vibration up to 44g, temperatures up to 200°C, 500 mating/unmating cycles, RFI – EMI shielding, and shell-to-shell continuity. These connectors are available with a high contact density, up to 128 contacts #22D and are compliant with MIL-DTL-38999 Series III, EN3645, BACC63, and CECC (standard for bronze shell).
Push-Pull Connectors
Push-pull connectors successfully prevent accidental disconnections through the use of a strong, self-latching mechanism that allows the connector to be mated by pushing the plug into the socket. However, the connection cannot be broken by merely pulling on it. This is important for critical applications like satellites that need a highly reliable connection, as an accidental disconnection could be catastrophic.
The B, F, and K Series push-pull connectors from Lemo use a self-latching system that allows them to be mated by simply pushing the plug axially into the socket. These connectors are engineered to be highly secure and cannot be broken by pulling on it. Instead, technicians need to squeeze and pull simultaneously to successfully break the connection.
Additionally, the Lemo B, F, and K Series push-pull connectors are lightweight, made from either metal or plastic and remain rugged enough for mission-critical applications in harsh environments. They include IP68 sealing for total water submersion, dust, vibration, and shock resistance.
The LEMO F Series connector is best for extreme conditions, meeting the most stringent specifications regarding dimensions, weight, and water tightness. On the other hand, the Lemo B-Series is ideal for indoor or vacuum-tight applications, while the K-Series is best suited for outdoor applications.
Outgassing Satellite Connectors
A connector must be outgassed before launching into space. This entails the extraction of volatile organic compounds before their installation in an application for space travel. If a connector is not outgassed, there is a possibility of corrosion and mission failure. To solve this, PEI-Genesis offers in-house outgassing capabilities to save you time and money. Here, connectors are placed into specialty vacuum ovens and tested to ensure they meet applicable standards.
PEI-Genesis Knows Satellite Connectors
From D-Subminiature connectors, 38999 connectors, and Push-Pull connectors to Ethernet, Micro D-Subs, Micro-miniature Circular connectors, and RF connectors, PEI-Genesis partners with industry-leading suppliers to offer a wide variety of space-grade interconnect solutions engineered to perform in outer space. Contact our PEI-Genesis experts today if you're in the market for a reliable, space-use-certified satellite connector. Our team is here to help you through every step of the way, from the early design phase to outgassing to shipping. To speak with a sales representative, please reach out to sales@peigenesis.com.