Push-pull connectors have been designed to prevent the occurrence of accidental disconnections in mission-critical situations. Since the first successful launch in 1957, push-pull connectors are proven to perform in demanding conditions, across a wide variety of applications spanning multiple industries.
How Push-Pull Connectors Work
Push-pull connectors successfully prevent accidental disconnections through the use of a strong, self-latching mechanism that allows the connector to be mated by pushing the plug into the socket. However, the connection cannot be broken by merely pulling on it.
Instead, the connector body must be squeezed while pulling in order to successfully break the connection. Unlike connectors that utilize a standard screw thread or bayonet locking system, push-pull connectors only require an axial force to mate and unmate, as opposed to the traditional rotational force. The result is a simple but strong locking mechanism.
Typical Features of Push-Pull Connectors
Most push-pull connectors are circular in design but can also be square or rectangular depending on application requirements. The circular connector design offers significant space savings as connections and disconnections only require two fingers, so multiple connectors can be mounted closely together. Additionally, circular push-pull connectors are fast and easy to work with in the field since no special tooling is required.
Push-pull connectors are lightweight and can be made from either plastics or metals, while still providing a rugged and durable solution for critical situations. They can be used in both indoor and outdoor environments and can include IP68 sealing to be dust, vibration, and shock proof, and for total water submersion. Depending on the application requirements, push-pull connectors can also be designed as disposable devices for situations where cleanliness and sterilization is critical.
Applications of Push-Pull Connectors
The demand for push-pull connectors ranges across many markets, from military and communications to medical and instrumentation. They are used in a variety of applications where a fast and secure connection/disconnection is necessary, such as military vehicles, medical devices and equipment, instrumentation, and soldier wearables. These critical applications need a highly reliable connection, as an accidental disconnection could be catastrophic.
Furthermore, push-pull connectors are ideal in situations where connectors must not only be easy to use but can also withstand high mating cycles. For example, medical personnel need to be able to quickly and frequently connect and disconnect devices in life-or-death situations reliably.
LEMO B Series
The LEMO B Series is one line of push-pull connectors designed for indoor or vacuum-tight applications, such as test & measurement, instrumentation, medical devices, and audio/video. They have a modular insert configuration that can include a wide range of high-density or hybrid electrical contacts, including solder, crimp, PCB straight or elbow, fiber, coax, thermocouple, pneumatic, fluidic, or high-voltage contacts.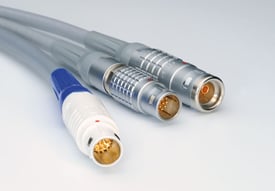 These LEMO connectors are available in 8 sizes and over 60 shell styles, including watertight and vacuum-tight designs. This makes them adaptable to a wide range of application requirements. The LEMO B Series allows for high packing density for panel space savings, while also providing 360-degree EMI shielding. Additionally, there are 13 keying options and 9 color codings in order to prevent mismating and reduce overall installation time.
SOURIAU JBX Series
The SOURIAU JBX Series are metal push-pull connectors available in mixed power and signal contact layout options. These connectors are available with IP68 sealing in both mated and unmated conditions, making them ideal for harsh outdoor applications with temporary or continuous water immersion and dust protection. The SOURIAU JBX Series is often found in medical instruments, robotics, building automation control, and telecommunications.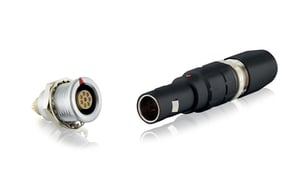 Additionally, they are rated to a minimum of 5,000 mating cycles and provide 360-degree EMI shielding to guarantee proper transmission and signal integrity. These SOURIAU connectors are available in high-density layouts perfect for compact devices due to its small footprint and feature an audible and visual indicator to ensure a secure, reliable connection.
Amphenol Alden Pulse-Lok® Series
The Amphenol Alden Pulse-Lok® Series of push-pull connectors is available in many different contact types, including signal, power, high-voltage, and Ethernet, as well as multiple color-coded options to help reduce the risk of mismating and improve safety. Common applications include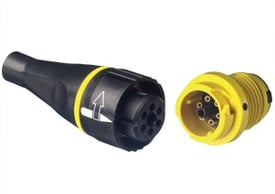 medical, factory automation, instrumentation, sensors, military, and communications. Because these Amphenol connectors are designed to endure a variety of cleaning, disinfecting, and sterilization processes, they are perfect for medical solutions. These Amphenol Alden connectors are IP67 sealed and offer both tactile and audible mating confirmation for added security.
PEI-Genesis: Your Source for Push-Pull Connectors
When it comes time to specify a push-pull connector for your design, let the experts at PEI-Genesis help. Whether it's a mission-critical military application or a medical device that must withstand sterilization procedures, PEI-Genesis will assist you in finding the perfect push-pull connector solution.