A growing concern for environmental impacts, coupled with advances in technology, resulted in increasing demand for hybrid electric vehicles (HEVs) and fully electric vehicles (EVs). With the market for HEVs and EVs growing so fast, automakers are looking for effective power connector solutions that provide critical features such as ruggedness, high voltage, high current requirements, and resistance to environmental conditions like dust and water.
Hybrid and Electric Vehicle Industry Growth
Compliance with environmental regulations, an interest in reducing one's carbon footprint, and other environmental concerns have made HEVs and EVs a popular choice for transportation globally. China has emerged as the leading market for EVs, selling more than 507,000 electric vehicles and plug-in hybrid electric vehicles in 2016 (a 53% increase from 2015).
Following China is the US and Europe in the HEV/EV market, and the market is projected to grow tremendously. In fact, according to research prepared by MarketWatch, more than 30 million Americans are likely to buy an electric car as their next vehicle.
Two key factors in this expected growth are the projected increase in fuel prices and the expansion of more automobile manufacturers into these emerging markets. Since global automakers are trying to tackle vehicle emission problems and further reduce pollution, EVs are increasingly affordable and commercially competitive with conventional gasoline-powered cars.
Standard HEV Connector Specifications
As the demand for HEVs rises, so does the need for effective electronic connectors. On a more conventional automobile, a 12V battery with a 30A current rating provides the power. However, on hybrid and electric vehicles, the voltage can be up to 1,000VDC with current ratings of up to 400A. That means conventional power connector solutions will not work on hybrid and electric vehicle designs.
Besides issues such as voltage and amperage limits, there are other specifications involved with HEV connectors making things even more challenging. For example, one key area of need is battery management, where rugged and reliable interconnect solutions can handle higher current. Battery packs also need robust connectors with reliable contact connections and positive locking mechanisms.
In addition to these more specific application requirements, HEV electronic connectors must also resist heat, shock, vibration, liquid, dust, dirt, sand, and other harsh environmental conditions. Ideally, they meet stringent size and weight requirements by providing secure, durable results with increased functionality in ever smaller and lighter packages.
UPC Connectors for Next-Gen EVs
Representing the industrial market, the HEV/EV industry is experiencing a significant increase in demand that looks to continue growing over the next few decades. However, because these vehicles have more intense power connector requirements than traditional vehicles, new electronic connector solutions are necessary.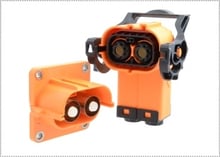 Amphenol Ultimate Power Connectors (UPC) are latch coupling power connectors that meet these demanding specifications for HEV connectors. These rectangular connectors have a compact design that is ideal for the space considerations involved with EV design and have a lightweight, yet rugged, plastic shell.
These 2-pole and 3-pole rugged plastic power connectors incorporate patented RADSOK® R4 technology for higher amperage, less resistance, and lower T-rise and voltage drop. Also, the RADSOK® twisted grid configuration allows for up to 50% more current to pass through the same size pin. The Amphenol UPC power connectors offer a minimum of 500 mating cycles and a low mating/unmating force. They can also be installed and repaired in the field, making them a convenient choice for both commercial and personal EVs.
These UPC electronic connectors are available in a wide amperage range (200 - 450A) with continuous power up to 450A and an operating voltage of 1000V. Amphenol UPC power connectors are HVIL integrated, UL 2251 (touch-proof) and UL 94V-0. When mated, they are IP67 waterproof, and offer a quick lock and push to release design.
If you are looking for electronic power connectors for HEV and EV designs, PEI-Genesis has the solutions you need. We offer a massive inventory of Amphenol connectors, flexible customization options, cable assemblies, and supply chain solutions that range from EDI to bonded stock to meet the growing demands of the HEV/EV industry. Contact PEI-Genesis today and become partners for HEV/EV electronic connectors and cable solutions.