Backshells are essential components that provide strain relief and cable support in mission-critical applications that must withstand harsh environments. These adapters intermate with a connector's rear-end geometry and are designed to protect the connector and wires from physical stress such as strain, shock, vibration, or even EMI/RFI in some cases. While some connectors come with backshells built-in, most do not, making it crucial to choose the right backshell for your application.
When specifying the right backshell, there are a few design questions every engineer must ask themselves:
1. What Type of Orientation Does Your Application Need?
When it comes to orientation, there are a few options to choose from, including straight (0°), 45°, or 90° right angle.

Image: Amphenol
Depending on the application, the orientation of the backshell can be determined. Straight backshells can be used for any standard application where the connector is coming out of the wall or the panel. 90 and 45-degree backshells can be used in applications where space is a design constraint.
2. What Level of Environmental Protection is needed?
Connector backshells can be either environmental or non-environmental. Environmental backshells are meant for use in harsh environments and include sealing grommets and grommet followers, providing a protective barrier against water, sand, wind, shock, and other environmental hazards. These would be utilized in aircraft, ground vehicles, or any other application that requires protection from its surroundings.
Non-environmental backshells are a cost-effective way to provide industry-standard cable support and strain relief, enhancing both a connector's performance and its longevity. These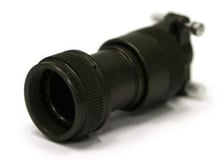 backshells provide strain relief when the environmental protection of the cable termination area is not a concern and are suitable for use in inside-the-box/climate-controlled room applications. Amphenol PCD provides a complete harsh environmental connectivity solution, where both electromagnetic and radio frequency noises need to be isolated.
3. Do You Need EMI/RFI Shielding?
EMI/RFI non-environmental circular connector backshells differ from standard non-environmental backshells as they provide protection against electromagnetic interference (EMI) and radio frequency interference (RFI) in controlled environments while also offering cable support, high corrosion resistance, and electrical continuity. However, they are not suitable for harsh environments. When it comes to shielding options for cables, there are a few choices:
braided shields
foil shields
or both!
This metal shield provides a barrier against EMI and RFI, ensuring that electromagnetic and radiofrequency fields do not interfere with the cable's operation. If a cable lacks a shield, it cannot be protected against EMI or RFI. Therefore, it is crucial to choose the appropriate shield to ensure optimal performance and minimize potential interference.
4. What Type of Strain Relief Is Required?
Cable clamps and heat shrink products offer vital protection and insulation to wires and connectors. Cable clamps provide strain relief for the wires, preventing them from ripping out of the connector, whereas endbells can provide waterproof protection and prevent dirt and moisture contamination. This ensures that the wires are not pulled out of the connector and the cable is protected against any mechanical wear.
Heat shrink products have several purposes, including insulating the electrical components, providing strain relief (especially at terminations), and protection against abrasion and other forms of mechanical wear. Additional benefits include UV resistance, color differentiation, lower applied cost, and reduced installation time. More specifically, heat shrink boots are designed to provide insulation and environmental protection from wires, making them an ideal choice for a range of applications. Straight boots come in various types suitable for use on circular and D-type connectors, as well as multiway transitions.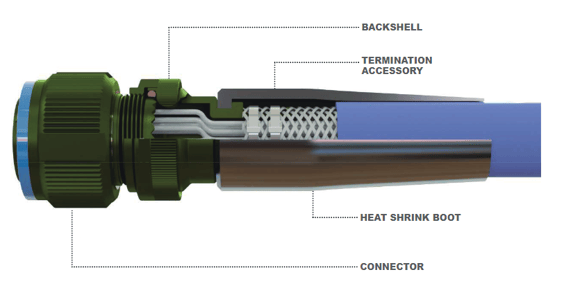 In addition to backshells, a range of backshell accessories is available at PEI-Genesis, including the following products:
Strain reliefs
Protective covers
Extender backshells
Pipe thread adapters
Termination systems
Shorting caps
Electromagnetic shielding options
Overall, specifying the right backshell is crucial for ensuring optimal performance and longevity of a connector in mission-critical applications and harsh environments. By considering factors such as orientation, environmental protection, EMI/RFI shielding, and strain relief, engineers can make informed decisions about choosing the right backshell for their application. With a range of backshell options and accessories available, customers can rely on the guidance of PEI-Genesis Trusted Advisors, who will take you through the customer process to find the best solution for their specific needs.