Visit us at INTERMAT from 23 – 28 April 2018 at Booth 5B N 015 at the Paris Nord Villepinte Exhibition Centre in France.
PEI-Genesis is a global leader in the design and assembly of custom engineered connector and cable solutions for harsh environments. We develop custom interconnect solutions that support the many applications of the Industrial Market. PEI partners with customers to design engineered solutions that meet specific application requirements. We deliver with speed, service, and consistent quality that is unmatched in the industry.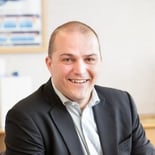 Joao Rocha, Business Development Manager for the Industrial market concludes, "The construction industry is following similar 'Mega Trends' to other industrial segments, some call it Construction 4.0. The implications of these mega trends – Automation, Precision, Speed, Environment & Safety, Regenerative Energy Systems and Connected Equipment – are massive challenges for the OEM's and partners. There's an increased need for connectivity solutions around higher power needs, sensoring, data exchange, and tool-less systems. They need to be integrated in solutions where the real-estate of the applications is becoming incredibly reduced but also more regulated (pollution/safety/data exchange). At PEI-Genesis, we work closely with our customers to address these challenges and resolve them leveraging our broad connector knowledge, valuable partners, engineering capabilities and manufacturing excellence."
We invite you to visit us to learn more from Joao and other members of the PEI team to discover how PEI-Genesis can partner with you on your next interconnect solution. We will be showcasing a wide range of Industrial focused, harsh environment connectors and cable assemblies featuring top connector brands such as:
And PEI-Genesis' own connector line, Sure-Seal
Discover more about PEI-Genesis and our Industrial Connector offerings.
Find more information about the event, visit INTERMAT.