Many harsh environmental conditions that involve electrical connectors will, at some point, come in contact with moisture. Whether through humidity, rain, or snow, conductivity and potential corrosion are of significant concern for engineers. Fortunately, waterproof connectors on the market today are engineered to be rugged and durable in severe conditions where water exposure can cripple performance.
What Are Waterproof Connectors?
Waterproof connectors join electrical devices in wet environments by forming an extremely tight seal. These wet environments can include humidity, rain, snow, saltwater, and pressurized water used for purposes such as cleaning.
Common industrial connectors create a waterproof seal by compressing either a gasket or an o-ring (commonly made from a rubber material, like silicone) against the surface of either a panel or the mating connector. This compression creates a tight seal that prevents moisture from passing through the connectors themselves or the enclosure to which the connector could be mounted.
Rubber works exceptionally well in these applications because of its sealing integrity and electrical insulating properties.
Typical applications for waterproof connectors include outdoor systems, lighting, watercraft, and machinery. For example, there is a high demand for waterproof connectors in marine technology where potential risks include saltwater vapor and submersion. Other industries include offshore oil exploration, data communication installations, transportation, and military equipment.
IP Ratings for Waterproof Connectors
Waterproof connectors have a high IP (Ingress Protection) rating, including dust and water submersion resistance and protection from high-pressure water flow. Different IP-rated protection levels are based on operating conditions that involve exposure to dust, short- and long-term immersion in liquids, and exposure to high-temperature water or steam.
Selecting a connector with the correct IP rating is extremely important: if connectors are incorrectly specified, water and debris can disrupt critical signals, corrode contacts, or damage equipment. The aftermath of such issues can lead to many problems and usually requires replacing electrical components.
IP ratings have two digits: the first digit (0 through 6) represents the solids rating, while the second digit (0 through 8 and 9k) is the liquids rating. Most waterproof connectors are rated either IP67 or IP68, which means they are dust-tight and protected against 30 minutes of submersion in water at either 1 m or 1.5 m, respectively. PEI-Genesis recommends working with your local PEI Sales Representative to determine the correct IP Rating for your application. For further information, please contact techsupport@peigenesis.com.
Waterproof Connector Solutions
Several effective waterproof electrical connectors on the market today are produced by industry-leading manufacturers like Sure-Seal Connections®, Amphenol, and LEMO.
Sure-Seal Connections
®
Waterproof D-Subminiature Connectors
Sure-Seal Connections® waterproof D-Sub connectors offer PEI-Genesis's brand of proprietary products and have proven reliability in all environments. These D-Subminiature connectors are ideal for data loggers, remote sensors, gauges, and any outdoor applications exposed to the elements.
They are available in panel-type connectors rated to IP68, meaning they can withstand dust, dirt, and sand and be submerged 1.5 m underwater for up to 30 minutes. In addition, the Sure-Seal® D-Sub Series is available in solder and PCB straight or right-angle pin options.
Also available are molded plug connectors that are IP67 rated for protection against sand, dust, and submersion in 1 m underwater for up to 30 minutes. In addition, these connectors come in standard 9-pin or 15-pin and high-density 15-pin or 26-pin layouts.
Amphenol VG95234 Waterproof Connectors
Amphenol Air LB VG95234 circular waterproof connectors are power and signal connectors compliant with the VG95234 German military standard. They are similar to MIL-DTL-5015 connectors and work well in military, industrial, and transportation designs.
In addition to sealing against fluids, Amphenol VG95234 waterproof connectors also offer excellent vibration protection to further ensure the integrity of connections through reverse bayonet coupling. They are designed for easy locking and unlocking and utilize large solder contacts ranging from 0 to 16.
LEMO K-Series IP68 Connectors
The LEMO K-Series e offers an IP68 rated connector solution with push-pull latching explicitly designed for harsh outdoor environments. They are used in various medical, industrial control, military, and aerospace applications.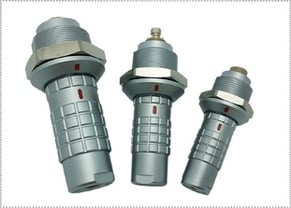 The LEMO K Series has an operating temperature range of -55°C to +200°C and are available in 2 to 64 contacts in high-density arrangements, which are ideal for highly space-constrained applications. PEI-Genesis custom assembles the K-Series from components which means thousands of different solutions can be developed.
PEI-Genesis:

Your Source for Waterproof Connectors

Whether you are looking for a rugged push-pull IP68 connector for a testing laboratory or a waterproof D-Sub connector intended for use with remote sensing, PEI-Genesis has the solutions you need. Our massive inventory and knowledgeable connector experts can ensure you have a connector solution to meet your design specifications and constraints.