In every market, for nearly every connector and cable application, one trend is clear; an ever-increasing amount of data needs to be processed and transmitted at lightning speeds, all in the smallest footprint possible.
There's a clear thread running through almost every connector and cable application: a growing amount of data that requires lightning-fast processing and transmission, while leaving behind the smallest footprint possible.
This is where fiber optic connector systems can help.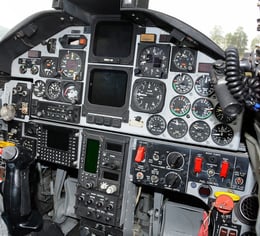 "From computers and home use to military vehicles, aircraft, trains, factory automation, and even on oil rigs, there's a tremendous amount of data that moves back and forth through electronic systems," said Michael O'Farrell, Business Development Manager for PEI-Genesis. "Fiber optics has been around for decades, but we have seen a giant surge in their use over the past 10 years. Now, fiber is being used everywhere, and it's in high demand."
Typically lighter than copper, fiber optic solutions allow for the quick, reliable transfer of data in sectors ranging from the military to oil and gas, transportation and telecommunication industries, all while holding up in harsh or rugged environments.
For example:
The interconnect systems inside a tank or other military vehicle need to withstand shock and vibration, extreme heat and cold, sand and mud and electrical interference, all while dealing with potentially high mating cycles.
Most factories have embraced partial or full automation. Their systems are remotely controlled and monitored, and require fiber optic connector systems to support video, data and sensing requirements.
The gantry crane systems that lift massive shipping containers have become fully-automated. The fiber optic connector systems that support these cranes need to withstand harsh conditions brought on by salt, humidity and temperature changes, and often need to be maintained by non-skilled personnel.
And of course, all these fiber optic systems must be reliable.
"Fiber optic solutions have to be 100 percent right the first time. Out in the field, be it a military deployment or on an oil rig, there may not be the skill set or tooling available to repair that fiber optic connector," said O'Farrell.
Other trends in fiber optic cable and connector systems include:
Increased use of hybrid connectors – using both copper and fiber optics – in more applications where power, signal, and high bandwidth data is required in a single interconnect solution.
The rise of expanded beam in border control and field deployable military systems, as this technology offers robustness over traditional fiber, because contaminants have less effect on light transmission, and an air gap between lenses adds further ruggedness.
An increased demand for MT-based rugged connectors, which O'Farrell notes are "lightweight, ultra-high bandwidth and very robust, offering up to 72 channels in a seven millimeter by three-millimeter ferrule."
In addition, fiber optic systems are not susceptible to EMI and EMP interference, and are safer since there's no chance of sparking.
"Fiber will never replace copper completely for signal transmission," said O'Farrell, "but fiber is becoming more available to more industries and applications, providing ultra-high bandwidth and sensing for some of the harshest environments."
If your next project requires fiber optic connector systems, turn to PEI-Genesis. We approach each job as a complete solution, not simply a part or product to finish an order.
We support customers with ongoing maintenance, inspection, cleaning and testing, and will often produce ruggedized kits to maintain reliability.
And we do this while delivering customized solutions with industry-leading speed, using a $70 million stock inventory and ability to assemble and ship connectors fast. Contact us to learn how we can help you with your next application.