The need for higher data transmission speeds, lower latency, lower security threats, and improved reliability are driving the growth of global Ethernet cable and connector use. Ethernet cables and connectors further provide simple, quick installations, and reliable connections.
For these reasons, engineers and product developers are indicating a strong preference for Ethernet over wireless or Bluetooth for high-speed data transfer applications. Simultaneously, there is also a significant increase in demand for Power over Ethernet (PoE) technology, which provides both data connection and electric power to systems and devices.
Cat6 and Cat6a Ethernet Transmission Speed Categories
Ethernet cabling systems are typically classified as either copper cable or fiber-optic cable. The copper cable segment can be further divided into network cable (Cat3, Cat5, Cat5e, and others) and PoE cable (Cat6, Cat6a, Cat7, and Cat8). Two of the most widely utilized Ethernet transmission standards today are Cat6 and Cat6a.
Cat6 offers enhanced performance compared to Cat5 and Cat5e, in part due to more stringent transmission performance specifications such as cross-talk and system noise. Cat6 technology and cables provide faster, more reliable data transmission over distances up to 100 meters, and the Cat6 Ethernet standard specifies performance up to 250 MHz.
Cat6a brings improved performance over Cat6, as its further reduction in cross-talk allows data transmission rates to increase to up to 500 MHz. Since Cat6a connectors operate at higher speeds, they require better components to achieve necessary channel separation.
RJ45 Connector Solutions for Harsh Environments
Cat6a RJ45 connectors are key to implementing data and power transmission systems. However, challenges arise when these systems must operate reliably in harsh environments. Such conditions demand Cat6/6a connectors that are robust, rugged, vibration and shock-resistant, and sealed against contaminants including moisture and dust.
Commercial and military aerospace, robotics, and rail transportation are a few examples of the typical data-intense, harsh environment applications that depend on Cat6a RJ45 connectors. Fortunately, there are specifically designed RJ45 connectors for harsh environment applications, including Amphenol RJ Field connectors and Polamco Cat6a RJ45 military grade connectors.
Amphenol RJ Field Series Connectors
The Amphenol RJ Field series uses a Cat6 connection for Ethernet over twisted-pair networks suitable for harsh environment applications including robotics, military data hubs, and communications. This series features its own RJStop® connection system, which protects from both dust and fluid, as well as shock and vibration. These traction resistant Amphenol RJ Field connectors are designed with a tri-start threading coupling mechanism to provide a quick connection, along with both an audible and visual coupling signal.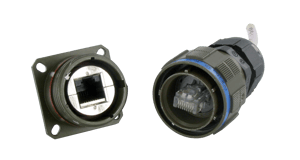 Amphenol RJ Field connectors have a robust metal shell with numerous RoHS compliant plating options. These circular connectors are available in both square flange and jam nut style receptacles with four shell plating options, as well as a spring-loaded, self-closing cap accessory option.
Polamco Cat6a RJ45 Connectors
Polamco Cat6a RJ45 connectors are high-speed Cat6a connectors designed to combine a lightweight, compact size with robustness and durability. The polarized metal shell on these Polamco connectors is derived from MIL-DTL-38999 and 26482 Series III. Polamco RJ45 connectors also provide 360-degree EMC shielding and meet UL94 flame retardant standards.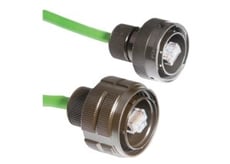 These Mil-Spec connectors are IP68-rated for sealing against dust and fluid and are reliable even when subject to high levels of shock, mechanical impact, and vibration. These Polamco military connectors are also fully compatible with the Amphenol RJF and RJFTV series.
PEI-Genesis: Supporting Your Harsh Environment RJ45 Connector Needs
The Amphenol RJ Field series and Polamco Cat6a RJ45 connectors are both excellent options when looking for high-speed, reliable Cat6/6a RJ45 connectors for harsh environments. At PEI-Genesis, we take pride in helping you find the right interconnect solution for even the most challenging applications. Let our interconnect engineers work with you to develop a highly reliable, customized solution for your next project.