Radio Frequency (RF) and Microwave connectors are designed to complement the efficiency of equipment connected to the radio spectrum. We are all familiar with radio waves and how they are integrated into our daily lives, from inside our cell phones to the radios in our cars. It doesn't matter whether you are calling a loved one or tuning into your favorite rock station; it is crucial that we receive information as fast and clearly as possible.
As technology advances, so do our expectations. This can especially be seen in industries like transportation, IoT, and data communications; the demand for products that support high-speed connections is ever-expanding. With the latest technology incorporating 5G connections, many communication systems need an upgrade. As with any upgrade in equipment, it is essential to ensure you are using both the correct connectors and the correct cabling to meet your Ghz & Ω (Ohm) requirements.
Higher Speed = Higher Frequency = New Equipment = New Interconnect
However, it should be stated that RF is nothing new. Since 1901, when Guglielmo Marconi and his assistants first managed to transmit information across the Atlantic, the world has used radio frequencies to transmit data across substantial distances. It continues to develop new and more efficient ways to communicate with each other.
Integrating RF Connectors Into Your Applications and Designs
What makes radio frequencies important is that they travel through the atmosphere with relatively little loss, which makes them ideal for long-distance communication in a variety of applications:

Radio

Television

Wi-Fi

Antennas

Telecommunication

High-data-rate wireless transceivers
RF connectors and cable assemblies are designed to transfer information to your equipment in a tangible way. By utilizing shielded coaxial cables, you can safely transfer information from an antenna to your radio, enclosure, or surge protector without the worry of interference.
The markets for RF connectors include several vertical markets, ranging from at-home consumer use, industrial communication, aerospace, military and defense, and satellites.
When working in mission-critical applications, like aerospace and defense, it's essential that not only satellites can identify and track the location of their planes but also that the operators can maintain an open channel of communication to the radio tower.
Selecting the Right RF Connector
When selecting an RF connector, it is essential to consider the mechanical dimensions, frequency range, impedance, coupling mechanism (bayonet or threaded), and, of course, the application for the connector.
Here is a summary of the most common types of RF connectors: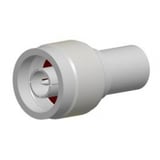 Type N Connectors: designed with a threaded coupling interface and are commonly found in amplifiers, power meters, and broadcast communication systems; frequency limit is 11GHz, and impedance is available in 50Ω and 75Ω
UHF Connectors: have a threaded coupling mechanism and are often used for military, antennas, and low-frequency applications; frequency limit is 1 GHz, and impedance is non-constant
TNC Connectors: designed with a threaded coupling mechanism and used for base stations, antennas, instrumentation, networks, and radar; frequency limit is 11 GHz, and impedance is 50Ω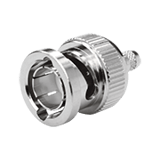 BNC Connectors: engineered with bayonet coupling mechanism and found in radio, television, test instruments, and video signal applications; frequency limit is 4GHz with an impedance of 50Ω and 75Ω
SMA Connectors: have a threaded coupling mechanism and are used in low power, high-frequency applications; the frequency limit is 18GHz
The descriptions above list a few available connector types; however, many more options are available in the market.
Furthermore, with Mil-Circular style connectors, you can get them with dedicated RF contacts, purpose-designed to be carried within a Mil-Spec housing.
PEI-Genesis: Your Source for RF Connectors
PEI-Genesis offers many types and configurations of RF connectors, including standard, miniature, sub-miniature, and micro-miniature, from various established partners, including Amphenol RF, SV Microwave, TE Connectivity, and Sure-Seal Connections®.
These include a coaxial connector and cable assembly products, such as the following:

Contact PEI-Genesis today to learn more about how we can be your source for reliable RF connectors.