The renewable energy sector is rapidly expanding across the United States as more companies adopt practices to promote sustainable energy. Green energy provides many benefits over traditional energy generation methods: it strives to be sustainable and environmentally friendly and produces no carbon emissions or greenhouse gases.
The three most used means of power production are solar, hydroelectric, and wind. Implementing renewable energy generation can be challenging, with harsh environments, weather exposure, and, in some cases, very high voltages. However, industry leaders have developed highly effective connector solutions specific to each type of renewable energy.
Wind Energy
With many wind farms (both on land and sea) scattered across the nation, the United States is the largest wind energy market in the world, according to the US Department of Energy.
Wind turbines harness the kinetic energy of the wind to generate power without releasing emissions or creating environmental pollution. Wind energy is a viable alternative to fossil fuels and is already being used to reduce dependence.
Connectors for wind turbines must withstand extreme temperatures, vibration, salt spray, humidity, and dust -on a nearly constant basis. Wind energy installations need reliable connectors that can perform in such harsh conditions. The connector must be easy to install and highly efficient. Specific requirements for wind energy connectors include:
Vibration and shock resistance
An operating temperature range of -40°C to +125°C
Keying capabilities
The rugged Amphenol 5015 Series, which is SAE-AS50151/MIL-DTL-5015 certified, meets the harsh condition and easy installation requirements of wind energy. They are available with various options, including the number and arrangement of contacts, materials, and platings. Additionally, more than 300 insert arrangements from 1 to 104 circuits are possible.
Solar Power
In 2021, solar PV (photovoltaic technology) is now the third-largest global renewable electricity technology, according to the International Energy Association. Solar power is an effective form of green energy that reduces greenhouse gas emissions, mitigates climate change, and has a minimum impact on water, soil resources, and wildlife.
Connector solutions for transmitting solar-generated DC power must perform in extreme temperatures and resist dust, sand, and water ingression while not overheating — even with voltages up to 1500V.
TE Connectivity's SOLARLOK line of connectors provides modern solar power application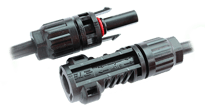 solutions. In particular, SOLARLOK photovoltaic connectors are suitable for solar panels and provide quick and reliable connections for DC solar PV technology while reducing power loss. The PV4-S SOLARLOK Photovoltaic connector system is designed for solar installations with extended voltage ratings of 1500V TUV and 1500V UL. In contrast, the PV4-PM SOLARLOK photovoltaic connectors are engineered for panel mount applications that reach 1500V.
Hydroelectric Power
Hydropower accounts for more than one-third of the total renewable energy generation in the US and 7% of the total energy generation, according to the US Department of Energy. With hydroelectric power (the oldest form of green energy), water is recycled through precipitation to generate electricity through turbines and generators. This form of green energy provides benefits such as irrigation support, flood control, and water supply.
Electricity can be harnessed through impoundment, diversion, and pumped storage hydropower. In impoundment, water is stored in a reservoir and released to generate power. In the diversion method, the natural flow of a river through a canal or pipe to a turbine or generator is used to produce energy. When pumped storage hydropower is used, two reservoirs at different elevations generate power as water moves down from one to the other, passing through a turbine.
The Sure-Seal ConnectionsⓇ Circular Series is one of the most effective connector solutions for all three types of hydroelectric power generation. These circular connectors can withstand vibration, shock, moisture, and contamination. They also possess an IP67 rating, making them water submersible. Cables for the Sure-Seal Connections® circular series are available in four sizes IPCA, IPCB, IPCC, and IPCD, and all connectors from SSC are RoHS compliant.
PEI-Genesis: Your Source for Green Energy Connectors
At PEI-Genesis, we understand the demanding conditions that connectors for wind, solar, and hydroelectric power generation applications must meet. We have the solutions you need from industry leaders such as Amphenol, TE Connectivity, and Sure-Seal ConnectionsⓇ to help meet these demands. Our connector experts will work with you to find the right solutions for your green energy technology needs.