Solar power is the world's fastest growing energy source, and that's good news for the specialty connector industry.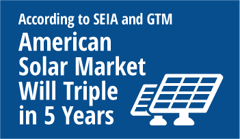 In 2016, solar power was the leading source of new electric generating capacity additions in the U.S., according to a report from GTM Research and the Solar Energy Industries Association (SEIA).
Solar accounted for 39 percent of new capacity additions across all fuel types that year, and SEIA and GTM predict the American solar market will triple in the next five years.
"What these numbers tell you is that the solar industry is a force to be reckoned with," Abigail Ross Hopper, SEIA's president and CEO said in a news release last year. "Solar's economically-winning hand is generating strong growth across all market segments nationwide, leading to more than 260,000 Americans now employed in solar."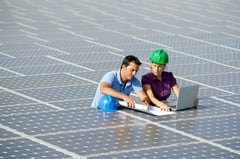 And this boom isn't just confined to America. As Connector Supplier noted last fall, worldwide auction prices for solar energy hit a record low of three cents per kilowatt hour in 2016.
Meanwhile, solar photovoltaics (or solar PV) grew quicker than any other fuel, with close to 165 gigawatts coming online around the world.
"What we are witnessing is the birth of a new era in solar PV," Fatih Birol, executive director of the International Energy Agency told Connector Supplier. "We expect that solar PV capacity growth will be higher than any other renewable technology through 2022."
Cloudy skies for solar?
We should note that this is happening at the same time that the Trump administration has imposed steep tariffs on solar panels manufactured overseas. The tariffs start at 30 percent and will decline over the next four years.
China filed complaints with the World Trade Organization asking to be compensated for the tariffs, and three Canadian companies are challenging the restrictions before the U.S. Court of International Trade.
The Natural Resources Defense Council argues that the White House should support U.S. solar manufacturing, but says the tariffs aren't the way to accomplish that goal.
And the need for solar energy isn't going away, and continual advances have made solar an increasingly important player in the energy field, meaning opportunities will only grow for specialty connectors to have their day in the sun.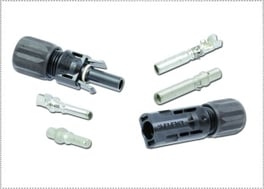 Among some of the specialty connectors in the solar power industry are the photovoltaic system offerings from Amphenol Industrial.
Amphenol's offerings include 4mm Helios H4 connectors, which come with improved gaskets and a locking design that meets NEC 2008 standards. These connectors also feature self-cleaning, high-efficiency grid contacts and ozone resistance.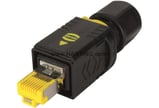 In solar thermal power plants, HARTING connectors are used on distribution boxes located on the heliostats to collect data and energy. Optical PushPull LC duplex connectors or RJ45-PushPull connectors allow exchange of data, while Han® series connectors are used for the power connection.
To learn more about these, and any other connectors in the solar power field, contact PEI-Genesis. Our team looks forward to helping you find the right connector for your next solar application.

.