When it comes to railway infrastructure applications, safety is always the top priority. All of the materials and systems used within a railway application, including the connectors and cables, must be extremely reliable and high-quality to ensure safe operation.

Railway connectors are used to transmit data and signals on different types of rolling stock (including locomotives, railroad cars, and coaches), signaling systems, and systems for power supply on trains. The demand for efficient, fast, and reliable mass transportation has led to an increase in the complexity of interconnect technology and, more specifically, connectors used in train systems.
Railway Connector Challenges
Rolling stock is designed to operate continuously, even in the most demanding environmental conditions. Trains and locomotives experience daily mechanical stresses such as vibration (which occur continuously) and impact loadings (which repeatedly happen over several hours, leading to extremely difficult interconnect operating conditions).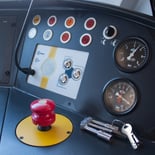 The interconnections between different electronic systems on a train are one of the most stressed areas. Cables and connectors are usually installed in exposed locations, meaning they'll need to endure environmental and mechanical conditions. The connectors used to transmit signals and power must be robust enough to withstand these harsh operating conditions.

Railway connectors must also have a fail-safe function to ensure safe operation during emergencies. A fail-safe function requires that each product be more complex while remaining compact and easy to handle, further complicating the connector selection process. Railway applications also require a long-term lifecycle, meaning the connectors and cables must be robust and standardized.

Railway Connector Requirements
Various connectors can be used in rail applications, including DIN, coaxial, circular, rectangular, Ethernet, and optical fiber. However, choosing the right connector can be tricky – these connectors must meet specific requirements to provide the right level of performance, ruggedness, and reliability. These requirements include the following:

Electrical parameters, such as voltage and current

Operating temperature

Vibration and shock resistance

Ingress protection from dust/debris, water, and industrial fluids

Low-fire-hazard properties, such as flame retardancy, low smoke emissions, low toxicity, and the use of halogen-free materials

RoHS compliance
Railway Interconnect Industry Standards
A connector designed and tested following a specific standard can be installed and used to ensure complete safety. Railway connectors, which should be uniform in quality, performance, and safety, are no exception. The primary reference standard for connectors and, more generally, for all electronic equipment used on rolling stock is DIN EN 50155 (IEC 60751 for the international version).
The DIN EN 50155 standard covers everything related to both the manufacture and use of electronic equipment in the railway sector, including:
Operating conditions
Electromagnetic compatibility
Maintenance
Test procedures
Technical documentation
Note that the IEC 61373: 2010 standard is also essential, as it relates to random shock and vibration tests that rolling stock connectors must pass for train installation. There are other industry standards that railway connectors must comply with, including:
NFF 16-101/102, DIN5510, and BS6853 for flame resistance
EN 45545-2 is the European standard for fire protection (including ignitability, heat release, smoke, toxicity)
UIC 558/552 for remote control of lights and doors, as well as the transfer of information between locomotives and wagons
SOURIAU SMS Series
The SOURIAU SMS series of plastic rectangular connectors is an excellent interconnect solution for indoor railway applications. These connectors come in a flame retardant version compliant with the EN 50467 standard and are compliant with the fire and smoke requirements of HL3/R22-HL3/R23 following EN 45545-2 testing. Keep in mind that EN 45545-2 is the single standard for hose assembly fire behavior (including toxicity, smoke density, and oxygen depletion) that all EU nations have now adopted.
The SOURIAU SMS series includes a quick mating mechanism to aid in installation and maintenance. These connectors are also RoHS compliant and available in an IP version with an entirely waterproof sealing rating of IP67.
PEI-Genesis: Your Source for Railway Interconnect Solutions
At PEI-Genesis, we recognize the need for safe and reliable transportation connectors to meet the demands of railway applications. These applications often include extreme conditions, meaning they must be robust and reliable enough to withstand extreme vibration and impact while maintaining a compact exterior. If you are in the market for rugged, reliable railway connectors compliant with industry standards, PEI-Genesis can help. Our team of connector experts knows the railway products and international standards to help you find the right solution for your application.