Rail system designs are filled with electrical connectors, and the demand for these connectors continues to grow as advances are made in navigation and signaling systems, onboard entertainment, and autonomous driving capabilities. Each of these systems requires high-quality, high-speed connectivity to function properly, and that simply is not possible without the appropriate electrical connectors.
Rail Connector Characteristics
Rail connectors must be able to operate reliably in harsh environments that include wide temperature ranges, vibration, and shock loadings. In addition, these connectors must be resistant to a wide variety of physical contaminants, including water, salt, dust, dirt, sand, and other debris. From a more technical point of view, if the connectors are made from metal, they must be highly corrosion resistant – especially in areas where they will be exposed to salt. Furthermore, rail connectors must be rated IP65 or higher to be compliant to all relevant railway standards.
Railway connectors also need to be both easy to install and repair, which in turn means they should be easy to swap out as needed. These rail connectors are exposed to a significant amount of wear and tear, so they need to last. In fact, longevity is often a key factor when specifying a rail connector.
Key Connector Applications in Railroad Systems
There is a definite shift in the transportation market toward the use of electricity as a primary power source, and the rail industry is no exception. As the demand for electric drivetrains rises, so does the need for high-voltage component connectors that are critical to both charging and operation. Additionally, high-speed data transmission is crucial to navigation, communications, signaling, and passenger connectivity. As the technologies of the rail market continue to develop, the multiple types of rail applications within one rail system each call for a unique connector specification.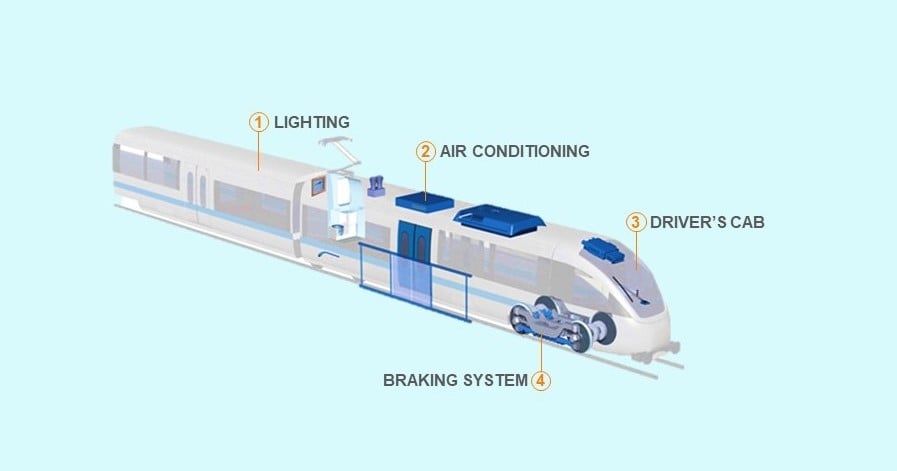 Lighting
The importance of a reliable lighting system cannot be overstated, and an excellent option for both interior lighting and LED applications in railroads is the Amphenol Luminus connector series. These durable electrical connectors are well-adapted to situations where space is limited, and they are both lightweight and cost-effective. They have AS39029 MIL Spec contacts for broad compatibility and an IP67 environmental seal rating, and they are RoHS compliant and suitable for blind-mating. The Amphenol Luminus connectors also have a locking mechanism, known as a "scoop-proof" connector, for added stability.
Air Conditioning
For air conditioning, which is vital for the comfort of passengers and employees alike, a reliable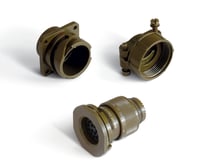 option is one of the ITT Cannon CA-B / CB Series Bayonet connectors. These electrical connectors feature a 3-point reverse-bayonet locking system (derived from, but improving upon, MIL-DTL-5015 standards) that is VG95234 approved. These bayonet connectors are available with ITT's RoHS & REACH compliant ZnNi Blue Generation plating, which is salt spray resistant. Their enhanced coupling system provides excellent resistance to shock and vibration, and they are available in 12 sizes and 140 arrangements.
Driver's Cab
Another key aspect of any railroad design is the driver's cab where life-or-death decisions must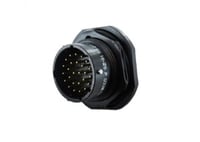 often be made in a split second. For these types of applications, the Amphenol PT/451 connector series is one of the ideal choices. These highly reliable PT connectors are resistant to many different fluids, vibration, and shock, as well as extreme temperatures. In addition, they have been designed with a quick-disconnect bayonet coupling that supports rapid mating/unmating. Watertight (IP66/67), hermetically sealed, shielded versions are also available.
Another option for use in a driver's cab would be one of several D-Sub connectors available from leading manufacturers such as, Positronic, ITT Cannon, and Cinch Connectivity Solutions. D-Sub connectors can be assembled to order with a wide variety of styles and contact layouts.
Braking Systems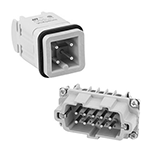 Braking systems are critical: a failure in the braking system could prove fatal for a large number of people and is simply not acceptable. A highly robust connector is often needed for applications this critical, like the Amphenol HeavyMate connector series. These connectors have a rugged design and are highly reliable, vibration proof, and corrosion resistant. These workhorses can handle up to 1000V and are designed for both power and signal transmission in extremely harsh environments. They can also be used on railway signal, HVAC, and power systems as well as 400V power on jumpers.
Robust Connectors for Advanced Rail Systems
Modern rail systems need electrical connectors that are designed to survive in harsh environments, are easy to repair and replace, and can withstand long periods of wear and tear. Connectors such as the Amphenol Luminus and PT/451 series, the ITT Cannon CA-B / CB series, and custom-designed D-Sub connectors have been found ideal for the latest in railroad system technology, from passenger comfort applications to critical systems, such as braking and controls.
PEI-Genesis: Your Resource for Rail Connector Solutions
PEI-Genesis is a trusted resource for major railway equipment manufacturers, subcontractors, signaling, and infrastructure companies. By providing rail connectors for an array of applications such as power transmission, data transmission, braking, controls, signaling, navigation, communication, and more, you gain access to a PEI-Genesis total rail connector solution.