PEI-Genesis has opened a new sales office in Tel Aviv, Israel, in an area known as Israel's Silicon Valley – a booming high tech hub known for its innovation, entrepreneurial spirit, and high concentration of tech industries and start-up companies.
Israel ranks in the top 10 among the most innovative countries in the Bloomberg Innovation Index, which takes into account six factors: research and development, manufacturing, high-tech companies, education, research personnel, and patents.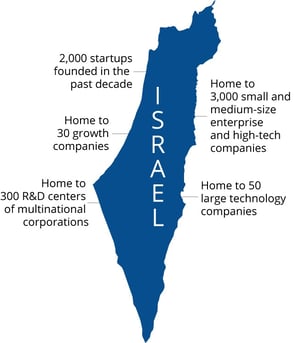 With the largest number of startups per capita in the world, Israel is home to 2,000 startups that were founded in the past decade; another 3,000 small- and medium-size enterprise and high-tech companies; 30 growth companies; 50 large technology companies; and 300 R&D centers of multinational corporations, according to a report released recently by Israel's Innovation Authority.
PEI-Genesis plans to focus its sales efforts on all market sectors and on start-up tech companies, fostering relationships so that it will be known as a valued, strategic partner for custom engineered connector and cable solutions.
"Israel ranks thirteenth in the world in scientific activity," said Steven Fisher, PEI-Genesis CEO. "It also has one of the highest per capita rates of patents filed, which indicates clearly that innovation is at the forefront. Our work with companies from design to delivery, and with our vast inventory and ability to customize quickly, it made perfect sense for PEI-Genesis to have a presence in this expanding market."
Simcha Frimer has been named Country Manager for PEI-Genesis in Israel. Before joining PEI-Genesis, Frimer spent 21 years at Nisko, one of Israel's largest distributors of electronic components. At Nisko, Frimer served as COO and since 2006, as Acting General Manager.
"Many of Israel's most innovative companies are focused on the industrial, military, aviation, energy, and rail and mass transit sectors, a perfect fit for the segments well served by PEI-Genesis," said Frimer. "The company is known as one that responds quickly and has the ability to deliver customized interconnect solutions in any quantity. Israel is the right place for PEI-Genesis."
Frimer, who has a Master's degree in Industrial Engineering, will be joined by four others in the Tel Aviv office, all of whom have experience in distribution and electronic components.
"There are so many new companies we want to get to know and we believe strongly we can bring as much value to them as they can bring to us," said Fisher.
The new Tel Aviv office is part of an ongoing strategic international expansion by PEI Genesis. In the spring of 2015, PEI also expanded into Zhuhai, China.
.