Applications that offer limited space for hardware pose unique challenges when it comes to finding the right connector solution. Oftentimes, these applications — whether it be for military, aerospace, or industrial markets — require smaller, more compact electrical connectors that are still capable of withstanding harsh environments. Micro-miniature circular connectors offer the same performance as their larger counterparts but are much smaller in physical size. As a result of their compact design, they can provide significant savings in both space and weight requirements while ensuring a reliable connection that can handle shock, vibration, and other environmental conditions.
Demand for Micro-Miniature Connectors
The demand for micro-miniature connectors is growing in applications that increasingly require compact, high-performance connectors to function in some of the harshest environments, such as aerospace, high-tech military designs, and specialty industrial markets. Micro-miniature connectors for harsh environments have been proven reliable even when exposed to vibration, shock loadings, and interference that could cripple a regular connector's ability to perform.
In just about any application where space is at a premium, micro-miniature circular connectors prove to be invaluable. For example, they can be found in soldier-worn equipment where components need to be as small and lightweight as possible, while still providing a secure connection. Micro-miniature connectors are also used in UAVs, which demand a connector that is extremely compact and able to handle all types of environmental conditions, including dust and moisture. You can find these connectors in satellites, communication applications, and surveillance equipment as well.
Amphenol 2M Series
The Amphenol 2M Series of micro-miniature connectors is designed to operate in demanding environmental conditions and meet MIL-DTL-38999 specifications for both vibration and shielding. These lightweight connectors offer a 71% weight savings compared to MIL-DTL-38999 and are 52% smaller while providing the same level of performance. Unsurprisingly, they also have a higher contact density than most other connectors in the same class. In addition, they are designed to be quick mating and are available in a variety of coupling types, including Dual-Start ACME thread, Tri-Start ACME thread, bayonet, and push-pull. The Amphenol 2M Series can be found in airframes, avionics boxes, tactical equipment, and headsets — all mission-critical devices that must be durable and reliable.
ITT Cannon MKJ Series
The ITT Cannon MKJ Series offers lightweight, space-saving micro-miniature connectors that provide high-performance connections for power, data, and signals. They are less than half the size and weight of standard military-grade interconnects, made possible in part by high-density contact arrangements. In addition, they have an internal ratchet mechanism engineered to be comparable to MIL-DTL-38999 shock and vibration requirements.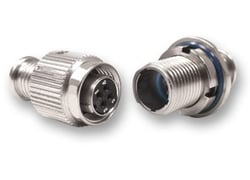 ITT Cannon connectors offer three different methods of coupling — threaded, bayonet, and breakaway. They come with either rear accessory threads for direct attachment of the cable shield and overmold, or an integral band platform allowing direct attachment of the cable shield to the connector. These connectors are field maintainable and repairable, which means cleaning, reconnections, and quick fixes are easy to accomplish.
This series of micro-miniature circular connectors is suitable for a variety of applications across the aerospace, defense, medical, and industrial markets. They can be found in satellites, industrial equipment, military support technology (e.g., hand-held radios and GPS devices), missile systems, and satellites.
PEI-Genesis: Your Source for Dependable Micro-Miniature Connectors
Micro-miniature circular connectors combine compact size, reduced weight, rugged design, and high contact density, providing the interconnect solution you need to meet the challenges of environments that have limited space. At PEI-Genesis, our team of interconnect specialists will help you find the right micro-miniature connector to meet your specifications, no matter how challenging they may be.