Meet Sriram Nandakumar – a fresh face on the PEI-Genesis team. Sriram first started at the company in 2018 as part of our Summer Internship Program and later joined full-time as a Field Application Engineer. Since then, he has hit the ground running supporting our customers in India.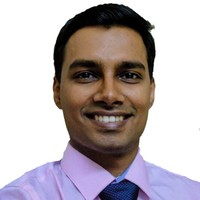 Prior to joining PEI-Genesis, Sriram worked for a CNC machine manufacturing company managing customer technical support and implementing solutions to improve machine productivity. However, his biggest challenge was gaining the electronic and software knowledge required to understand the workings of modern-day electronic components and machinery. He soon realized that it was imperative to broaden his horizon and stay current with latest technological advancements in order to stay relevant in this ever-changing industry, so he entered the world of electrical connectors and cables.
Sriram was pursuing his MBA at Temple University in Philadelphia, Pennsylvania when he joined the PEI-Genesis's Summer Internship Program in 2018. What drew him to the company was that, even though PEI-Genesis is a multi-national company, it still has the values of a family owned business with a strong culture. The company's ICARE values resonated with Sriram, so when he was offered a full-time position upon his graduation, he did not hesitate to take advantage of the opportunity.
As a Field Application Engineer, Sriram leverages his technical expertise, combined with PEI-Genesis's $100 million of connector inventory, to assist customers in specifying the right connector and cable assembly solutions based on their specific application requirements. Along with customer support, he also plays a vital role in promoting the company's proprietary products including Sure-Seal® and FilConn. Lastly, he focuses on developing the greater India region by assessing and engaging new markets where our products are needed.
For Sriram, the most fascinating aspect of connectors is the wide range of applications that they are used in. He exclaims, "From kitchen appliances to fighter aircraft, they are everywhere! Every project that I come across, I get to learn something new based on our customer's application". He also thinks the most innovative advancement he's seen in the industry is the development of unmanned aerial vehicles (UAV) in recent years. It amazes Sriram how common and easily available they are. Growing up, he would see drones in cartoons and sci-fi movies, but now they are used in surveillance and rescue operations. He's even had the opportunity to work with drone manufacturers in India for their upcoming projects! Considering the recent advancements in this industry, Sriram sees immense potential for drones in various markets.
In terms of the future of the industry while considering the effects of COVID-19, he believes robust supply chains are going to be a key driver for the electronic components industry. "Businesses are going to invest heavily on creating reliable supply chains that can withstand unforeseen disruptions. Even as I interact with our customers on new projects, I can see a higher weightage given to the lead-time and ease of availability of the parts that are going to be designed in their system," Sriram states. Specific to India, it has become a rapidly growing market of strategic importance for several reasons. The country is now the third largest military spender in the world, plus its offset policy and 'Make in India' campaign is meant to promote self-reliance in manufacturing. The booming start-up ecosystem in India has resulted in many new product developments in various industries. Therefore, it is important that PEI-Genesis is there to support our customers and tap into the high growth potential of this market.
Outside of the office, Sriram lives a very active life. He enjoys endurance sports such as long distance running and cycling, having completed two full marathons, one duathlon, and several running/cycling events. He's also working on swimming so he can participate in triathlons. Sriram considers completing his first full marathon as his biggest achievement to date. He never thought that his body would be capable of completing such a challenging event. Aside from these hobbies, Sriram is also a motorcycle enthusiast. He loves trail riding on his KTM with his friends on weekends. He's even had the chance to take a motorcycle trip to Himachal Pradesh to explore the foothills of the Himalayas, making it by far his favorite place to travel!