A few years back, we did an article on how unmanned aerial vehicle (UAV) market trends meant good news for the connector industry, and it seems like a good time to take a look at how things have changed since then. One of the major areas of application for UAVs is still for the military market, where they are integral to surveillance, weapons systems, border management, and reconnaissance. However, there are more and more commercial applications in development -- and more connector solutions available to meet the needs of UAV design.
The Demand for Military UAVs
The demand for military UAVs (sometimes called drones) is steadily increasing, no doubt due in part to the preference for combat technology that minimizes the risk to the military personnel operating it. UAVs are controlled remotely, which means there is no onboard pilot at risk when they fly over dangerous zones. They also allow for more precise targeting of enemy structures and combatants, which reduces the danger to civilians.
In 2017, when our original article was written, the Air Force had more jobs for RPA pilots (Remotely Piloted Aircraft) than traditional pilots. However, the Air Force is not the only branch of the military using UAVs. For example, in recent years we have seen multiple developments across many branches of the military:
Non-Military Applications for UAVs
While the term "drone" is often associated with tasks such as surgically precise attacks to take out dangerous terrorists, UAVs and drones are not just used by the military. Here are some other applications for drones:

Surveying and mapping
Inspection and monitoring
Precision agriculture
Aerial imaging
Environmental monitoring and conservation
Computer vision
Delivery services
Emergency and disaster response
UAV Design Constraints
From drones that fit in the palm of a paratrooper's hand to UAVs with a 131' wingspan, there are some things all UAVs have in common. Keeping the weight at a minimum is a key design constraint with UAVs, and space is at a premium. This means that lightweight, compact, reliable components -- including connectors -- are critical. Since many of these UAVs are used in mission-critical, high-stakes applications, their reliability is of the utmost importance. In addition, the drones must be resistant to electromagnetic interference when it comes to signals and to environmental factors such as moisture and dust.
Electronic Connectors for UAVs
Amphenol Amphe-Lite
For UAVs, electronic connectors are critical for power and signal transmission. Amphe-Lite connectors are compact, lightweight, highly reliable, and are available in a variety of layouts. These connectors with electroless nickel plating provide excellent signal integrity due to the shielded mating system that utilizes 360⁰ shell grounding fingers, providing protection of up to 65 dB minimum - 100Mhz to 10GHz. They also provide up to 128 contacts per connector.
TE Deutsch 369 Series BACC63 Connectors
Another connector solution for UAV applications is the TE Deutsch 369 series of BACC63 connectors. This connector series features a composite design, making them lightweight and compact. Since the Deutsch 369 series is already popular in aerospace applications, they offer high reliability. In addition to being approved to meet Boeing BACC63 specifications, they are fully sealed with a robust design.
LEMO M-Series Connectors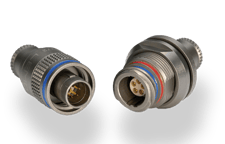 The LEMO M-series are another alternative connector for UAV applications. The M Series connectors are ideal for military and security applications and have been tested to MIL specifications. Compared to other micro circular connectors and MIL-38999 connectors, they offer significant size and weight advantages. These connectors are fully shielded, sealed, and vibration secure while also providing 360⁰ EMC shielding protection.
Your Source for UAV Connectors
These connectors highlight some of the latest developments in the connectors that enable and drive the rapidly expanding uses of UAVs. The demand for small, lightweight, reliable connectors for UAVs has grown over the last few years, and there are multiple electronic connector solutions on the market that are ideal for use with UAVs and drones
If you are looking for electronic connectors for UAV applications, the knowledgeable team at PEI-Genesis will work with you to find a solution that fits your design specifications and constraints, whether it is COTS from our massive inventory of connectors or a custom-engineered design. We will work closely with you all the way from design to delivery. Contact PEI-Genesis today and let us become your partner for electrical connectors and cable solutions.