As technology advances, many manufacturing facilities are incorporating industrial robots into their production lines. Countries such as the United States, Germany, China, South Korea, and Japan have, on average, more than 930 robots per 10,000 manufacturing employees, according to Statista. This drive for robotic implementation comes as no surprise, given the benefits of robotic process automation, including productivity, reliability, consistency, and accuracy.
Industrial Robotics
There are many ways factories and manufacturing facilities implement process automation and robotics. For example, Automated Guided Vehicles (AGVs) can transport items in production quickly by following specific paths through a facility.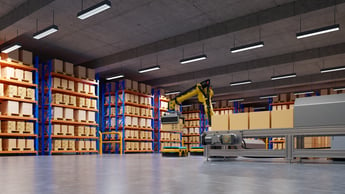 Autonomous Mobile Robots (AMRs), similar to AGVs, use smart navigation to optimize their routes in terms of time, power consumption, and even safety. Many are already familiar with Automatic Storage and Retrieval Systems (ASRS), which handle material storage as they strategically place and retrieve items while supporting software systems for facility management inventory.
How Industrial Robotics Are Built
The four primary parts of an industrial robot are the manipulator, controller, human interface, and power supply. Regardless of the type of robot under discussion, these four components are critical to its safe, reliable, and effective operation. Each of these components will be different depending on the type of application they are used for.
AMRs, for example, require rechargeable power supplies and a variety of sensors to provide data to the intelligent navigation system. An ASRS may need specialized manipulators for handling delicate or fragile inventory. Some automated systems have an onboard human interface, such as a teaching pendant that allows the robot to learn the correct sequence of movements for process automation.
All these robotic components have one thing in common: they require electrical connectors to communicate and work properly.
Industrial Solutions For Process Automation
RJ45 and M8/M12 circular connectors are the most commonly used components for robotic process automation. For example, RJ45 connectors are used in factory automation to support data exchange via Ethernet cables between industrial I/O applications, devices, and systems, including tasks involving distributed control. M8/M12 connectors work exceptionally well for robotics, production machinery/equipment, and industrial automation and control applications.
While many different connector solutions are on the market, not all are suitable for industrial facilities and plants' working conditions, including exposure to moisture, liquids, water, and dust. The ability to maintain connection integrity in harsh industrial environments is critical.
Sure-Seal IP67 RJ45 Connectors
PEI-Genesis's in-house brand Sure-Seal offers excellent options for RJ45 connectors. Sure-Seal IP67 RJ45 connectors are engineered for communications applications in industrial environments and meet TIA/EIA-568 Category 5E requirements.
Both the metal and composite versions are rated to IP67 for environmental sealing and protection against contamination from dust, water, and condensation, which is necessary for reliability in harsh working environments. These RJ45 connectors also possess a unique, foolproof gasket design that prevents over-tightening. Additionally, they have copper alloy, gold plated contacts to resist corrosion and ensure excellent conduction.
Note that Sure-Seal IP67 RJ45 Metal Connectors have metal housings made of a robust nickel-plated zinc alloy. On the other hand, the Sure-Seal IP67 RJ45 Composite Connectors are constructed with a tough, durable glass fiber-reinforced nylon body.
TE Connectivity M8/ M12 Circular Connectors
PEI-Genesis partners with TE Connectivity to provide IP67/68-rated M8/M12 circular connectors that can support a bandwidth of up to 10 Gb/s. These highly reliable Mil-Spec circular connectors are used in several applications, such as the motor controller that powers automation equipment. In this particular application, the performance of equipment and the safety of nearby workers can rely heavily on the dependability of these connector solutions.
However, motor control is far from the only application. TE Connectivity M8/M12 connectors work seamlessly with industrial Ethernet and Fieldbus, ideal for the sensors and actuators necessary for the operation of robotics and other process automation equipment.
PEI-Genesis: Your Partner in Industrial Robotic Connector Solutions
At PEI-Genesis, we provide reliable connector solutions for the latest technology for industrial automation. As your trusted advisor, we will work with you to find the right solution to fit your industrial application requirements. Contact us today for electrical connector solutions for industrial robotics.