Many applications require durable connectors with specifications that meet the needs of highly demanding environments. High-temperature connectors are specifically engineered for applications that require reliable stability at extreme temperatures. These connectors are ideal for the harshest environments and find multiple applications in industries such as the oil and gas market, where they are vital to downhole drilling, geophysical studies, and petroleum exploration. High-temperature electrical connectors are also essential to the military aerospace market, where they can be found in missiles and rockets, all of which experience significant heat exposure as a part of regular operation.
The Demand for High-Temperature Micro-D Connectors
There is a heightened demand for small, rugged Micro-D connectors that can withstand extreme temperatures. In many cases, smaller connectors are necessary because of design constraints involving weight and space-saving requirements. This is especially true in aerospace applications such as rockets, where weight must be minimized to reduce fuel requirements.
Micro-D connectors must also be high performing and environmentally sealed to perform reliably in critical applications where system failure could quickly turn catastrophic. As part of their daily service, they may also need to be shock, impact, and vibration resistant. Fortunately, three particular high-temperature Micro-D connector product lines are proven reliable, lightweight, and compact.
ITT Cannon High-Temp Micro-D Connectors
ITT Cannon offerings include the MDM series of high-temp Micro-D connectors that can withstand temperatures up to +200°C (+392°F) and are sealed against environmental contaminants, humidity, and moisture. They are ideal for the harsh environments found in space, downhole drilling, and missile systems. ITT Cannon also offers an ultra-high temperature MDM version that can withstand temperatures up to +230°C (+446°F) continuously for 500 hours.
ITT Cannon Micro-D connectors have a robust and lightweight aluminum shell and provide ultra-high density contacts in half the space typically needed for standard D-Subminiature connectors (e.g., designed with contacts on .050" (1.27mm) centers and size 24 contacts). They have a micro twist pin contact system with pin contacts that are protectively housed in the insulator. In addition, the solid tube socket contacts are visibly extended from the socket insulator. ITT Cannon Micro-D connectors are available in solder, printed circuit, and pre-wired connector versions.
Cinch Micro-D High-Temperature Connectors
Cinch Micro-D high-temperature connectors can withstand temperatures up to +175°C (+347°F) and are MIL-DTL-83513 qualified. They are well adapted to extreme temperature applications in both military/aerospace and general industry and are common in downhole directional drilling technology. Cinch Micro-D connectors are also designed to resist any combination of high temperature, vibration, and shock, meaning they have a long life — even in severe environments.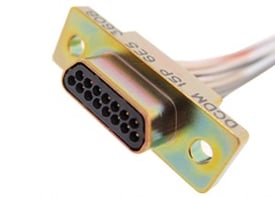 This line of Cinch connectors includes twist pin technology with unique plug insulators that provide increased electrical protection between cavities, while also supplying 7 points of contact when mated. The twist pin technology helps these Micro-D connectors achieve high mating cycles and better resistance to shock and vibration.
Ulti-Mate Wired Hi-Temp Connectors
Ulti-Mate Wired Hi-Temp M83513 Micro-D Connectors provide reliable Micro-D solutions engineered to withstand temperatures up to +200°C (+392°F) and exceed their M83513 rating requirements. These rugged, high-temperature electrical connectors are designed for the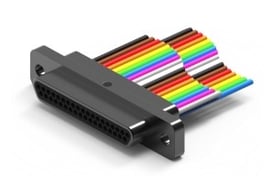 harsh environments of applications including oil, gas, and geothermal wells — any operating environment that subjects electronic instruments to extreme conditions. The Ulti-Mate Hi-Temp connectors are guaranteed for 500 mating cycles, are available in wired and circuit board configurations, and are manufactured in both low profile and standard profile series.
PEI-Genesis: Your Partner for High-Temperature Connectors
Whether you are searching for high-temperature connector solutions for military aerospace missile applications or downhole directional drilling for the oil and gas industry, PEI-Genesis has a team of experts to assist connector searches every step of the way. At PEI-Genesis, we supply connector solutions from manufacturers such as ITT Cannon, Cinch, and Ulti-Mate, all of which have off-the-shelf products and custom configurations. Let us help you find the right Micro-D connectors to meet your application's unique demands and M83513 standards.