Companies worldwide are experiencing a global supply chain disruption that is unprecedented for this generation. From massive cargo ships left waiting to unload goods and raw materials to a labor shortage in the transportation of goods, many factors complicate the delivery of raw materials and products, which has even begun to affect electrical connector availability. Partnering with the right supplier has never been more critical to mitigating any supply chain risk, while measures are being taken to minimize the disruption and slowly bring it to an end.
The Effects of Supply Chain Disruptions
Five specific factors are driving the supply chain crisis:
Port congestions
Fewer truck drivers on the road
Not enough warehouse workers to store products
Factory closures and labor shortages due to COVID-19 lockdowns
Unprecedented weather conditions
Right now, ships are waiting off the coast of Southern California to unload their supplies. To make matters worse, much of the needed supplies are in Asia, where many are still on lockdown and in recovery from the pandemic. There is also a shortage of shipping containers, further complicating the supply chain disruptions.
The domestic supply chain is not immune to these issues. According to the American Trucking Association, the U.S. is short 80,000 truck drivers due to low pay, poor benefits, and long hours. It is not uncommon for truck drivers to wait up to 8 hours to drop off items and exit from ports. Unloading and warehouse stocking issues can also be traced to labor shortages.
According to the U.S. Bureau of Labor Statistics, prices are up 6.2%, and inflation rates are at their highest since 1990. In addition, oil and fuel prices are still up, further driving up the cost of transporting goods and the price of those goods.
The availability of products and manufacturing materials has been crippled for many industries as factories worldwide either closed or experienced extreme labor shortages due to the COVID-19 pandemic.
For example, a lack of materials combined with global shipping issues has also led to a chip shortage. Many countries depend on China either for the manufacturing supplies to produce chips or the chips themselves. A supply shortage of chips affects several different industries and disrupts their manufacturing.
Raw material shortages such as resin, rubber, steel, and plastic have led to a different supply chain crisis. Less resin means fewer connectors are being manufactured. Severe winter storms in Texas led to a lack of chemical compounds, including polyethylene resin — commonly used in the manufacture of electrical connectors. Check out the resin price surge below.
Supply Chain Solutions
Currently, Los Angeles and Long Beach ports operate 24/7 to catch up. Advances in technology will help maintain products by using a more agile system for logistics managers to oversee things more clearly. These technological advancements include 5G, data analytics, IIoT (Industrial Internet of Things), automation, and robotics.
In the context of electrical connectors, manufacturers are working diligently with their supply chain partners to ensure materials are available as soon as possible. In addition, connector distributors, like PEI-Genesis, are working closely with their manufacturing partners to deliver products in an acceptable time frame and are communicating regularly with customers expected delivery dates.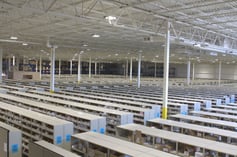 Fortunately, PEI-Genesis has over $100 million in connector inventory available from leading manufacturers. There are three production facilities across the world where connectors are stored and ready to be delivered. Upon request, any necessary tweaks or changes can be implemented right away to ensure the products are at your door within a few short days. This gives us the flexibility to provide the exact part you need right when you need it.
PEI-Genesis: Your Partner During Supply Chain Disruption
The team at PEI-Genesis understands the domino effect of problems with the supply chain, primarily when it affects connector solutions. Our massive inventory of products has been beneficial to our customers as we manage this effectively every day. PEI's vast inventory is what makes us different from other distributors. We are willing to stock vendor-managed inventory (VMI) to get products to our customers quickly and efficiently. The message from PEI founders Murray Fisher and Bernie Bernbaum still holds the same today: we deliver the best products faster than anyone else.