What commonalities do hydraulic shovels, bulldozers, and threshing machines share?
Each example of the above equipment operates in challenging environments where establishing reliable connections is highly difficult. The likelihood of disrupted operations from a single loose connection can be greatly minimized by selecting the appropriate connectivity solution.
The Harsh World of Heavy Equipment
Heavy equipment experiences many daily challenges — dust, harsh terrain, moisture, shock loading, extreme vibration, and high temperature. These challenges are relevant across industries, including construction, demolition, mining, forestry, and agriculture. In construction, for example, excavators, loaders, and dump trucks must handle substantial loads and shocks while navigating difficult terrain.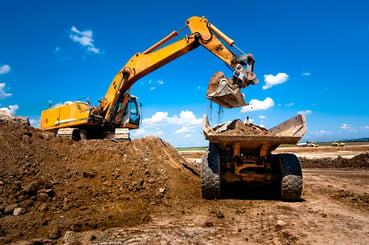 When observing the agricultural industry, a variety of equipment, such as tractors and harvesters, are exposed to fertilizers, insecticides, and herbicides, chemical substances capable of wearing down equipment without the proper connector solutions. Paving equipment is another industry example out of many, where cement trucks and compactors might experience high temperatures and intense vibration felt across even the smallest of movements.
Connector solutions for heavy equipment must be rugged enough to withstand harsh conditions, requiring enclosures that can ensure the integrity of critical control modules and power distribution connections. These enclosures must be modular and flexible enough to support various sizes and connector types.
Cinch ModICE for Harsh Conditions
The Cinch ModICE (Modular Integrated Connector Enclosure) product line is engineered for the harsh environment of heavy equipment. They are sealed to both IP67 and IP69K, making them resistant to water, moisture, mud, dust, chemicals, and similar contaminants. Cinch ModICE enclosures remain sealed when exposed to heavy shock and vibration, and their operating temperature ranges from -40°C to +85°C. The enclosures even remain sealed when harness connectors are not mated.
Additionally, the Cinch ModICE enclosures are highly modular. The enclosures are available in three sizes: (ME, SE, and LE) and have compatible snap-in headers that include an integrated PCB connector. The base interconnect technology for the Cinch ModICE is the 1.5mm SHS System, with panel-mount PCB connectors available in multiple keying and color configurations to simplify assembly. SHS harness connectors mate to SHS headers and have push-to-seat terminals, terminal position assurance, and integrated wire grommet seals with a protective back plate.
The ModICE line of products includes options for one or two integrated heat sinks, breather vents, and headers with integrated ferrite filtering. In addition, blank headers are available for specific customer applications.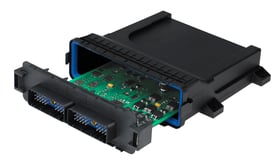 The Cinch ModICE SE/LE enclosures offer efficient control module protection and have proven highly reliable for heavy equipment data transfer and management applications. The SE enclosure has a board size of 4.50" x 4.60" and is available with header configurations of 18, 30, and 48 I/O. The LE board size is larger at 6.00" x 6.10" and offers header configurations of 30, 48, and 60 I/O. Additionally, both are available with integrated heat shrink.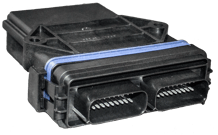 The Cinch ModICE ME enclosures are ideal for a smaller PCB board size of approximately 4.00" x 3.35" and a main connector supporting 12, 20, 24, 32, and 40 I/O header configurations.
Empower Engineering with Reliable Connectors
At PEI-Genesis, we understand the challenge of engineering heavy equipment with rugged, reliable connectors for data transfer, control modules, and power distribution. The Cinch ModICE product line is an effective solution for ensuring reliable performance in the harsh environment of excavators, material handlers, tractors, bulldozers, and beyond.
Contact our connector experts today to learn more about Cinch ModICE solutions and how PEI-Genesis can value-add these connectors to fit your specific application requirements, providing a reliable, quick-turn solution.