At PEI-Genesis, we enjoy the challenge of finding effective solutions to our customers' most difficult design issues. We serve a variety of industries as diverse as medical, rail, aviation, and agriculture. What follows is an example of a problem brought to us by a customer that is, in many ways, typical of challenges faced in the agricultural market.
Agricultural Equipment Industry
The agricultural equipment industry is driven by technical innovation and constrained by the harsh conditions that the equipment must face on a daily basis. Machines like tractors and front loaders experience extreme wear and tear, including taking a toll on connectors and cable assemblies, too. When a tiller or combine fails, it not only impacts the immediate farming process, but it can affect both the yield and profitability of the harvests involved. That's why companies that manufacture off-road equipment need solutions that stand up to difficult conditions.
The Need
An agricultural manufacturer needed a connector along with a small, lightweight enclosure for a printed circuit board (PCB) acting as a control module for a machine electrical system. In addition, it needed simple assembly, accommodate 16 circuits at 10 A each, and IP67 sealed.
Agricultural equipment, much like other types of heavy equipment and machinery, operate in one of the harshest environments possible for electronics. The environment in which this control module would be operating meant that it must be very ruggedized, protecting the PCB from water, moisture, dust, mud, chemicals, and similar contaminants. The connectors for equipment, such as threshers, reapers, tractors, harvesters, and other agricultural machines, also have to be highly sealed and resistant to shock and vibration.
Reliability is another key factor. Electrical systems responsible for critical functions like braking, transmission, and engine control cannot afford to fail. And any machine downtime associated with the failure of an electrical system can result in a loss of productivity while impacting crop yield. Additionally, smart farms are heavily reliant on connected, predictive, and responsive systems to drive precision, efficiency, and yield.
Failure of key electronic systems can quickly derail the workings of a smart farm. Electronic components and electrical systems must be reliable, and the first steps toward that goal are the implementation of robust connectors and rugged enclosures.
The Challenge
The primary challenge was achieving compatibility between the enclosure options and available PCB connector options. The enclosure not only had to IP67 sealed, but the PCB had to fit within it. Eventually, they determined that they needed a single solution, not two separate solutions. An additional complication was the need for a COTS (catalog-off-the-shelf solution) with a minimal lead time that would also fit an already designed PCB.
The Solution: Cinch ModICE Product Line
The Cinch ModICE product line seemed like an excellent solution to the challenge: enclosures with compatible snap-in headers that include an integrated PCB connector. A product was found that not only met the sealing and current requirements, but also one of appropriate size (out of 3 distinct enclosure sizes: ME, SE, and LE) that required minimal PCB design changes.
These enclosures are RoHS compliant and sealed to both IP67 and IP69K. They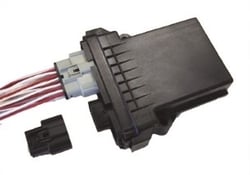 remain sealed even when the harness connectors are not mated. In addition, the ModICE line of products offer options for breather vents, heat sinks, and ferrite filtering. These are also available in additional custom modifications to meet any customer's specific needs. The ModICE line not only works well for agricultural applications, but also for equipment used in areas such as construction, demolition, forestry, and mining.
Because the product needed was in stock, the agricultural manufacturer was able to continue with the qualification process with a minimal delay—a critical issue for new product development, regardless of industry, from agriculture to custom engineered solutions.
Where PEI-Genesis Comes In
At PEI-Genesis, we understand that reliability, robustness, and quick turnaround on parts are key factors in the success of an agricultural manufacturer. We offer industrial connectors and enclosures that can handle the aggressive environment in which tractors, combines, front loaders, and similar equipment face every day.
Whether your electrical system needs protection from the dust and debris of harvesting silage or a fertilizer spreader is exposed to corrosive chemicals, we have the parts you need. Quickly find the best solution for your agricultural equipment to get it back in the field without delay.