At PEI-Genesis, we understand that the military aerospace market has no choice but to anticipate future advances in data speeds. To that end, connectors that have been designed for the rapidly evolving datacom and telecom market must be prepared for such advances. To make things even more challenging, aerospace connectors are faced with a more hostile operating environment than would be found in most telecom or datacom applications.
The Modern Connector
Connectors for aerospace applications must be easy to operate. They have to mate and unmate quickly while simultaneously preventing unintentional disconnection even under powerful vibrations and rough handling. Both military and commercial aircrafts are dependent on reliable, high-bandwidth networks. This includes high-fidelity inflight entertainment and IFEC systems, which both have increased bandwidth requirements. Fortunately, the kind of connectors needed for these advanced aviation applications are available: the Amphenol ARINC 801.
Why Amphenol ARINC 801
Amphenol ARINC 801 products are precision fiber optic interconnect solutions. They supply high-speed 38999 with fiber termini and offer an enhanced option over a standard D38999/M29504 solution. That means improved reliability, easier maintenance, and outstanding optical performance for insertion loss and reflectance. This increased reliability makes this product the fiber optic connector of choice in the commercial aviation industry. The Amphenol ARINC 801 Termini and Connector provide low insertion and return loss through the use of an F/O termini. Installation is made easier by the use of guide pins, which also allow for ultra-low dB insertion loss. Cleaning of the termini is further simplified by removable ceramic alignment sleeves.
Amphenol ARINC 801 Termini
The Amphenol ARINC 801 Terminus is designed for use with Amphenol 801 fiber optic connectors and has been carefully manufactured to fully comply with ARINC 801. This terminus is a size 16 genderless, which means it can be used on either side of a connector. The alignment sleeves are contained in a separate carrier, which makes them much easier to remove for end-face cleaning.
Extremely accurate fiber-to-fiber alignment is made possible through high precision ceramic ferrules and sleeves, and there is no need to worry about rotation because the terminus is keyed—which significantly improves performance, too. In addition, the terminus body has been crimped to provide a "pull-proof" advantage. These ARINC 801 Termini are available with both PC and APC end-face finishes.
Amphenol ARINC 801 Connectors
The Amphenol ARINC 801 Connectors are designed for use with the ARINC 801 Termini just described. They use high-precision fiber optic termini, with a typical multi-mode insertion loss of less than 0.15 dB. They also have removable alignment sleeve inserts, which make cleaning the termini extremely easy. Note that these connectors are designed for three stages of alignment: shell-to-shell keys, guide pins, and ceramic alignment sleeves.
The ARINC 801 connectors have a scoop-proof design and rear accessory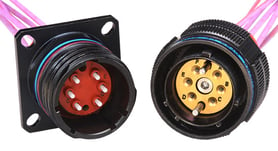 threads. They support the option for alternate keys and keyways and only need standard insertion or extraction tools. They are available in single mode or multi-mode options. Shell styles include straight plug, wall mount and jam nut receptacles and are available in steel, aluminum, or composite shells. Inserts are available to support up to 32 channels.
Applications for the ARINC 801 Termini and Connectors
The ARINC 801 cylindrical fiber optic connector suite is ideal for both commercial and military aerospace applications (and can be fully immersed in standard aerospace fluids). They are commonly used in IFE, SATCOM systems, commercial airframes, RF-over-fiber, and military radar. They work extremely well in high-speed data networking, as well as video and signal avionics.
Why PEI-Genesis
PEI-Genesis offers the fiber optic solutions that you need for your most demanding commercial and defense aerospace applications. We are the only ARINC 801 VAD in the world and have a huge inventory of ready-to-ship solutions. We know that not all applications are going to work with off-the-shelf interconnection products, which is why we offer custom engineered connector and cable solutions and then deliver them with service. PEI-Genesis doesn't just develop custom interconnect solutions for aviation, either. Our products can be found in industries like energy, industrial, medicine, and rail. Contact us today to find out what we can do for you!