Technology in the interconnects industry is always advancing, with new standards developing and regulations evolving. This leads to older devices and techniques being pushed into obscurity, making obsolescence an inherent risk and source of concern for many design engineers in the interconnects industry. But obsolescence can be proactively managed, and there exist solutions for parts that simply are not manufactured anymore.
Why Connectors Become Obsolete
Keep in mind that a part is considered obsolete when it is no longer available from the original component manufacturer (OCM). There are many reasons why a connector can become obsolete, with the number one reason being the release of a redesigned or superior product that supersedes previous models. A familiar example outside of the connector industry would be the obsolescence of cathode-ray tubes after introducing flat-screen monitors.

Another reason for obsolescence would be the inevitable changes in standards or regulations as they advance over the years. This is especially common for military qualified connectors, such as MIL-DTL-38999, MIL-C-26500, or SAE-AS5015 (which has evolved more than five times in the past 90 years). Thus, military connectors are a common source of problems when obsolescence is involved.
The Risks and Challenges of Connector Obsolescence
For highly regulated connector markets, including aerospace, military, and medical, obsolescence can leave original equipment manufacturers (OEMs) non-compliant with regulatory standards, leading to fines, lawsuits, and loss of reputation.

Obsolescence also makes repairs, maintenance, and technical support more difficult because the original connector used in a design may no longer be available. This is especially true as parts reach their end-of-life after prolonged use in extreme environments where degradation in their performance may pose serious safety risks. There is also a risk for end-users who have felt it necessary to redesign/re-engineer parts or need a replacement for a legacy system.

Fortunately, engineers and designers can take proactive measures to minimize the impact of obsolescence.
Managing Connector Obsolescence
Designs can easily contain numerous connectors of different types, making obsolescence management and equipment upgrades a challenge. The starting point for proactively dealing with obsolescence involves performing a complete audit of connectors in use and utilizing that data to carry out a risk analysis of parts that could soon become obsolete. Once this has been completed, designers can seek alternative solutions for the most high-risk connectors.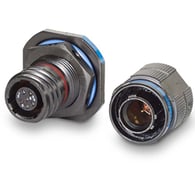 Typically, the military and OEMs that serve the military and aerospace markets request obsolete Mil-Spec connectors, such as MIL-DTL-38999 connectors. Large pieces of equipment often remain in service for decades and can easily outlast the standards and regulations related to the connectors that they depend on. Because of this, they will require repair long after the original parts have left the market.

Many of the distributors that serve the military and aerospace markets register with the U.S. Department of Defense and have a military CAGE code that enables them to work with OEMs, subcontractors, and government agencies. In addition, distributors who handle obsolete parts may also be ISO 9001 or AS9120-certified and offer component testing. This, in turn, assures high-quality control for obsolete connectors by obtaining parts directly from suppliers or by examining documentation that comes with inventory held by OEMs.
PEI-Genesis: Finding Solutions for Obsolete Connectors
At PEI-Genesis, we are ready to help you tackle the challenges you may face due to connector obsolescence. Our component inventory of more than $100M allows us to build millions of combinations of products and accommodate your unique needs when obsolete components require replacement. In addition, we typically have a minimum order quantity of one piece — an offering highly beneficial for repairs. With our wide range of products and suppliers, we are confident you will find the part you need for your project.