USB connectors are very common and can be found nearly everywhere in consumer electronics, from computer keyboards, disk drives, and printers to smartphone chargers. However, there is an increasing demand for these connectors in harsh environments, including telecommunications, ground vehicles, industrial equipment and automation, and medical equipment.
The Basics of USB Connectors
Universal Serial Bus (USB) serves as an industry-wide standard establishing a specification for both cables and connectors while also providing protocols for connection, power (i.e., interfacing), and communication between computers and peripheral devices. USB cables are used to supply electric power and communicate between computers, peripherals, and other computers via a wide variety of USB connectors.
USB standards and connectors were initially developed to make it easier for external devices to connect to personal computers by replacing multiple connector types with a few standard connectors while also permitting greater data transfer rates. There are currently several different types of USB connectors, including Type-A, Type-B, Mini-A, Mini-B, Mini-AB, Micro-B, Micro-AB, with the latest being USB Type-C.
The USB standard and the connectors associated with it have existed since 1996 with four generations of specifications: USB 1.x, USB 2.0, USB 3.x, and USB 4 (with variations in between, such as USB 3.2). Each USB generation provides a different data rate speed and has its own maximum cable length and maximum power. It was developed to offer solutions to problems such as size constraints and data speeds.
Harsh Environment Conditions: The Challenges for USB Connectors
A traditional USB connector, such as the ones we use for charging our phones or connecting an external hard drive to a laptop, cannot withstand harsh environmental conditions. Harsh environment USB connectors must meet a number of criteria to be rugged and robust enough to perform reliably. These criteria include the following:
Environmentally sealed against water, dust, and other contaminants

Anti-vibration

Compact

Shock resistant

EMI/RFI shielding

Rugged design (usually requiring a metal shell or durable composite material)
Other potential concerns include potential exposure to high temperatures, the ability to withstand repeated connect/disconnect cycles by users in the field, and space constraints caused by having multiple connectors in the same area.
Amphenol ICC USB Type-C Connectors
One of the commonly used USB connectors for harsh environments is the Amphenol ICC USB Type-C product line. These rugged Amphenol USB Type-C connectors support USB 2.0, USB 3.1 Gen 1, and Gen 2 and have a space-saving design similar in size to Micro USB. They meet SuperSpeed communication at 10 Gb/s, have a 5A current rating, and feature a reversible plug and cable orientation for a better user experience.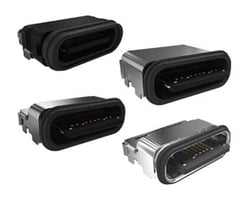 In addition to supporting both audio and video signal outputs, these USB Type-C connectors are guaranteed up to 10,000 mating cycles. They are also available in waterproof variations with up to IPX2 and IPX8 ratings and are ideal for a range of applications, including telecommunications, medical equipment, and automotive.
Sure-Seal® USB 2.0 Connectors
Sure-Seal® IP67 USB 2.0 connectors are a PEI-Genesis brand of waterproof and contamination resistant USB connectors, making them an ideal option for harsh environmental conditions. These USB 2.0 connector systems are available in metal (nickel-plated zinc alloy) and composite (glass fiber reinforced nylon) cable assembly housings.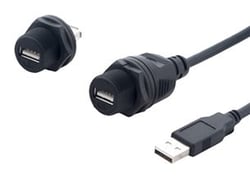 The Sure-Seal® USB 2.0 connector family is a reliable and cost-effective USB 2.0 connector solution that is well-adapted to a range of harsh environment situations. These connectors are well-suited for IO applications such as process control, outdoor telecommunications, factory automation, and mass transit.
PEI-Genesis: Your Source for Harsh Environment USB Connectors
Whether a USB 2.0 connector is needed for transmitting power and data for a mission-critical process control system in a water treatment plant, or a high-speed USB connector is required for an automotive infotainment system, PEI-Genesis is here to help. Our connector experts can help you find the ideal solution for all your harsh environment USB application needs, including products like the Amphenol ICC and Sure-Seal® connector solutions. Partnering with PEI-Genesis will give you rugged, reliable, and cost-effective USB solutions for your designs.