Outdated technologies that use fossil fuels (coal, oil, and natural gas) are being replaced with new technologies that use electricity as a primary energy source. This process, also known as electrification, is more environmentally friendly, reducing carbon dioxide emissions across various sectors, including industrial and military. As more technology moves toward electrification, there is an increasing demand for high-power electrical connector solutions that offer outstanding performance even in the most rugged operating environments. But where is the demand coming from?
Global Outlook for Electrification
On a global scale, the demand for electricity is expected to increase 80-90% by 2050 to reach Nationally Determined Contributions objectives. These objectives resulted from the Paris Agreement, which aimed to reduce national emissions and adapt to the impacts of climate change.
Renewable energy sources could produce more than half of the world's electricity by 2035 and do so at a fraction of the cost of fossil fuel, according to reports from McKinsey & Company.
As the world continues to push for greener energy sources, market sectors are also experiencing changes in the direction of their energy sourcing. In particular, there is a strong push among electrical interconnect manufacturers to gain market share.
The most prominent type of connector currently used in electrified applications is power connectors, leaving the interconnect industry in a race to increase the power distribution capability of connectors. Electrification impacts many markets across the interconnect industry, including the military and industrial sectors.
Electrification and the Military Market
The Global Military Vehicle Electrification Market size and share revenue are expected to grow from USD 4.8 billion in 2020 to 8.6 billion by 2025 at a 13% annual CAGR (compound annual growth rate) from 2021-2026, according to a market research report by Facts and Factors.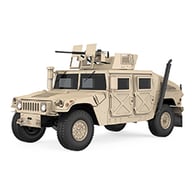 This growth rate has been attributed to both demand for new technologies and a push to go green. Countries worldwide are already beginning to invest in electric military vehicle research to improve the stealth, speed, and power of their vehicles. Various countries are noticing that autonomous and semi-autonomous vehicles — which heavily depend on electrification — serve as an effective aid in reducing human loss on the battlefield.
The demand for military EVs (electric vehicles) is increasing as new technologies and growing power requirements are becoming necessary to maintain pace with advances in technology. In addition, countries can leverage electrification to slightly reduce their military spending by investing in longer-lasting, environmentally friendly energy sources. The European region is expected to lead in the military EV market because of its strict emissions regulations.
Countries can also streamline the design of their military vehicles and increase their speed by investing in electrified motors. Electrified motors require fewer moving parts, need less maintenance, have a significantly longer lifespan, and require less fluid when compared to combustion motors.
Electrification and the Industrial Market
Roughly 23% of greenhouse gas emissions in the United States come from the industrial sector, according to the EPA (Environmental Protection Agency). Industrial manufacturers are now beginning to realize that definite environmental and financial benefits come with sourcing energy from electricity rather than depending on fossil fuels.
It is estimated that electricity can replace almost 50% of the fuel sources used by industrial companies, according to McKinsey & Company. Electrical equipment and machinery manufacturers already source almost 40% of their energy requirements from electricity.
However, such electrification requires rugged, dependable high-power industrial connectors.
Amphenol ecomate® RM Connector Series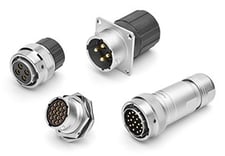 The Amphenol ecomate® RM series of circular, metal connectors are ideal for electrification across military and industrial applications. These circular connectors have an IP67-69K rating (in mated condition) and a maximum current rating of 300A. They are available in both standard and high amperage versions and are equipped with a bayonet coupling system -- all in a sealed connector system.
Amphenol ecomate® connectors are suitable for both indoor and outdoor applications that are transitioning to electrified systems, including:
Factory automation
Heavy equipment
Transportation
Electric vehicles
These Amphenol connectors are versatile, with pin and socket contacts available on reels or in strip form, for high volume, low cost, automatic machine terminations. The socket contacts are also available in machined, loose-piece contact forms.
PEI-Genesis: Your Partner in Powering Electrified Applications of the Future
At PEI-Genesis, we understand the heightened demand for dependable connectors for electrification in industrial and military markets, which is why we offer many reliable interconnect solutions across our massive inventory of components. As a distributor of rugged, high-power connector solutions, let our team help you find what you need to support the ongoing electrification transformation.