Devices and equipment developed for the medical space involve various applications, such as surgical defibrillation, patient monitoring, diagnostic imaging, and more — all of which take place in environments filled with stress and distractions, including signal interference, fluids, vibration, and impact. In such applications, the reliability and integrity of electrical connectors are of utmost importance to ensure the well-being and safety of patients, which is why surgically precise connector choices for medical devices are essential.
Modern Medical Applications
Advances in modern medical devices have been nothing short of astounding, but with such advancements come changes related to increasing safety and regulatory requirements. For example, medical connectors must meet ISO (International Organization for Standardization) and IEC (International Electrotechnical Commission) standards while complying with patient safety requirements.
However, Connector Supplier reports that the IEC has nearly doubled its electrostatic discharge requirement, and the minimum voltage for a panel-mounted receptacle is now at 15 kilovolts. There are also non-electrical challenges, such as sterilization and sanitation procedures that require extremely high temperatures.
There has also been a significant increase in demand for mobile medical equipment that requires smaller, more lightweight electrical connectors. These connectors must offer reliable performance in harsh conditions and excellent resistance to EMI (Electromagnetic Interference).
While low-cost, disposable connector solutions are becoming a common option in many medical applications, manufacturers are also developing medical connector solutions with enhanced durability capable of protecting high-end devices from common hazards in medical environments. These enhanced durability connectors are designed to withstand high mating cycles because repeated mating and mismating are the most common cause of excessive wear for connectors, especially in medical environments.
In addition, the cable assemblies used with these connectors are both over-molded and textured to ensure secure handling even during distracting, high-stress situations. Then, issues such as impact, vibration, and exposure to chemicals and fluids are addressed to enhance durability further.
Fortunately, there are three connector solutions that our experts at PEI-Genesis recommend for your next medical application: Amphenol Alden Pulse-Lok Series, the ITT Cannon MDSM Series, and the LEMO B-Series.
Amphenol Alden Pulse-Lok Series Connectors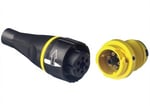 Amphenol Alden Pulse-Lok connectors are an excellent IP67 rated push-pull connector solution for medical applications. They are engineered with a unique locking system that combines visual, tactile, and audible confirmation for secure connections combined with quick-release action, both of which are ideal for highly distracting environments.
Once mated, these Amphenol connectors' retention features provide a secure connection that effectively protects against disengagement due to an unexpected or unintended pull on the cable. Unlike more traditional push-pull connectors, the coupler on these circular connectors contributes almost no additional force to the mating process, which positively contributes to their already high mating cycles.
These medical connectors are available in multiple color-coded options that further reduce the risk of mismating and improve overall patient safety. They are also lighter and more cost-effective than traditional circular metal connectors.
ITT Cannon MDSM Series Connectors
ITT Cannon MDSM Series connectors are microminiature D-Sub twist pin connectors 50% smaller and much lighter than their equivalent 83513-style commercial counterparts. These durable, high-density ITT Cannon connectors feature a reliable twist pin contact system using Pos-A-Linement. That, combined with push-pull and thumb screw securing operations, ensures that connections remain in place for patient safety and reliable equipment operation.
In addition, ITT Cannon's MDSM connectors have been specifically engineered for use in extremely harsh environments, making them a great choice for the medical field's often unpredictable working environment. Safety and integrity are further ensured by PDNi contact plating for a minimum of 10,000 mating cycles and full shielding to reduce EMI/RFI.
LEMO B-Series Connectors
LEMO B-Series connectors support a wide range of contacts, including coax, fiber optic, high voltage, fluidic, thermocouple, and pneumatic. These B-Series connectors are available as high-density or hybrid electrical contacts and include additional options such as crimp, solder, PCB elbow, or PCB straight. This product line of B-Series connectors also includes a size range of 0B to 5B and both 00 multipoles and 2G.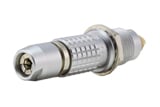 LEMO B-Series connectors have been designed for indoor and vacuum-tight applications and are specifically recommended for use in medical devices. They include a secure, push-pull latching system and a proprietary keying system that supports a higher contact density while preventing mismating, which can prove extremely important for functionality and patient safety. Furthermore, LEMO B-Series connectors also provide a highly reliable connection with quick mating and unmating.
PEI-Genesis: Your Source for Reliable Medical Connectors
At PEI-Genesis, we understand the importance of finding a medical connector solution that provides the integrity and reliability paramount to patient well-being and overall safety. Whether the design is a cardiac defibrillator for use during surgery or a patient monitoring system that can mean life or death, our team of engineers and experienced connector experts will help you find a connector that can effectively handle your application requirements.