Not all computer servers are going to have a dust-free, controlled environment in which to function. Ruggedized industrial servers are designed to perform in harsh environments, and that means they have more challenging design requirements.
One particular aspect of these design requirements involves a combination of sealing against dust while accommodating the limited workspace available inside the server panel. But how can these requirements be customized for special designs?
Challenges of Server Design
When cables and connectors are constrained by a minimal workspace, one common issue is the danger of a tight bend radius. If cables are subject to a tight bend radius, it can impact their performance, reduce their service life, and damage the connectors and mount receptacles involved. Excessive bending, however, can be minimized through the wise use of connectors.
Because the problem in question requires a ruggedized computer server, there is also a need for protection from the environment.
Sure-Seal IP67 M Connector Series
An excellent solution for these types of designs is the Sure-Seal IP67 M Connector Series. They not only meet the constraints of a limited workspace but also prevent environmental damage with an IP67 protection rating against both water and dust. The M connectors are durable and resistant to corrosion, making them reliable enough for even the most mission-critical of applications. The cable is available pre-terminated, which minimizes installation time on site. The connector is also easy to work with, which helps to reduce downtime during repairs or maintenance.
Sure-Seal IP67 M12 Panel Mount Receptacle
Recently, a customer designing a ruggedized industrial server faced the challenges described above for size-constrained problems: environmental protection and potential issues with too small of a bend radius. A custom-designed Sure-Seal IP67 M12 (X-Coded) panel mount receptacle with a custom flexible length of the cable was their first choice solution.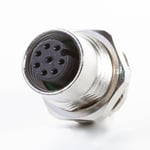 The panel mount connector comes with a specialized rear end that maintains strain relief while also limiting its protrusion into the box. This provides an ideal answer to both space and bend radius issues. Additionally, this connector makes routing and installation easier. IP67 connectors offer the needed protection for undesirable environmental factors, such as dust and moisture.
The Sure-Seal M12 connectors have 3 to 17 pole configurations, along with shielded cable, snap-in connections, and field-wireable assemblies. All cable assemblies are offered in PUR or PVC. Sure-Seal's M12 connectors prevent damage from dust and water with robust TPU material, corrosion-resistant gold plated brass contacts, and screw lock coupling. These top-of-the-line connectors are rugged, easy to use, and resistant to the effects of even the harshest environments.
Resolving Customized Connector Issues
Knowing upfront the shock, temperature, and performance-related requirements can easily lead to a customized connector solution tailor-made to meet overall product goals and specifications. Also, the fast delivery of prototypes helps to ensure that the custom solution is what is needed. Such specific connector solutions give further reassurance and peace of mind while producing a superior product.
Too often engineers settle for COTS connector products that barely meet the design specifications. However, to remain competitive in a world of fast-paced technological developments, the wisest course of action is to seek a customized solution that better fits the overall product goals.
PEI-Genesis: Strategic Solutions to Industrial Environments
The industrial server market demands a wide range of solutions for tough environments and high performance. Not only do we have a massive selection from the world's leading manufacturers of harsh environment connectors, but we also have unique internal capabilities to develop a strategic product for any industrial server market issue.
From power connectors to sensor connectors, our rapid-prototyping and quick turnaround will help you keep your project moving forward. Extensive skills and expertise in electronic connectors ensure that you find the right answer to your industry-specific issue in no time.