When it comes to power transmission in modern electronic devices, the importance of reliable connectors cannot be overstated. Today, power and hybrid connectors form the very backbone of our power systems, where they work to ensure seamless connectivity and optimal performance.
Power and hybrid connectors, such as those engineered by Positronic, are specifically designed to maintain a reliable and secure connection that optimizes power transmission. With such versatile options, Positronic power and hybrid connectors make an excellent choice for any application where secure and efficient power transmission is essential.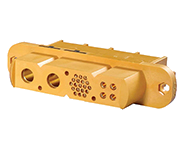 Three such solutions from Positronic – Scorpion, Goldfish, and Power Connection Systems (PCS) – deliver high efficiency and versatility.
Power & Hybrid Connectors: Efficiency Meets Versatility
Power and hybrid connectors maintain a secure connection between an operating device and its power source.
In the world of these connectors, Positronic connectors are unique: they are designed specifically with low contact resistance in mind. These connectors reduce the amount of power lost as heat in the system, ultimately leading to greater efficiency systems and more energy savings, translating into reduced system costs as well as a simplified design process.
Thanks to this improvement in efficiency, Positronic power connectors also achieve industry-leading levels of power density. They are compact and lightweight, doing more work than a few traditional connectors combined.
Scorpion: Flexibility in Design
One of the standout products in the Positronic lineup is the Scorpion Series connector.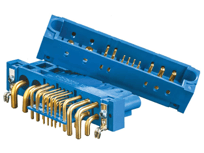 Designed to be a versatile power/signal solution, Scorpion Series connectors are rated up to 100 amperes per contact and have the ability to add signal contacts and a variety of accessories. Suitable for industrial and mil/aero applications, Scorpion connectors operate at temperatures ranging from -55°C to +125°C, fitting the needs of almost any project imaginable.
Another aspect of Scorpion Series connectors is their unique locking/guide systems for blind mating, float mount, and cable connector options. Such systems allow for ease of installation and improved reliability in assembly.
Goldfish Series: Compact Powerhouse
Another industry-leading connector series from Positronic is the Goldfish Series.
Standing out for its high-power efficiency, the Goldfish Series is able to offer exceptional current ratings up to 32 amperes per contact at a 30°C temperature rise. With high conductivity contents and support for maximal current densities, the Goldfish Series is ideal for power supply and control applications. The series' connectors are particularly useful for applications operating at 500W and above, such as rechargeable battery packs for medical, UAV, industrial, and electrification.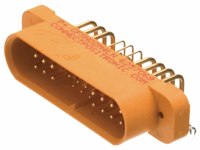 Notably, these connectors are also designed for applications that require robust blind mating in a compact, economical package. To this end, the series comes with six mixed-density (hybrid) contact arrangements and touch-safe recessed female contact options, making features such as sequential mating, float mounting, selective loading for high-voltage needs, and hot-swapping possibilities.
Power Connection Systems (PCS): Secure and Versatile
Finally, the Power Connection System series from Positronic is ideal for applications that require secure and versatile connections.
With secure rectangular interconnect offerings featuring an integrated locking system, the PCS series boasts an array of sequential mating options. In total, these connectors offer 16 low-resistance, making these connectors ideal for handling high current loads in industrial environments.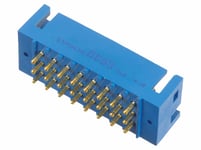 Available in board-to-board, board-to-cable, and cable-to-cable configurations, these connectors offer several variants for different needs. With operating temperatures and voltage ranging from -55°C to +125°C and 600VAC, respectively, PCS connectors guarantee robust and reliable connectivity.
PEI-Genesis and Positronic: A Power-Packed Partnership
PEI-Genesis has been an authorized distributor for Positronic since 2018. This partnership combines high-reliability power and signal connectors from Positronic with PEI-Genesis's quick-turn, value-add solutions, offering customers an extensive range of custom-configured standard Positronic connectors.
Speaking to the strength and importance of this partnership, Steven Fisher, President and CEO of PEI-Genesis, says, "Adding Positronic strengthens our line-up of the industry's top connector brands and enhances our extensive and unmatched high-mix, low-volume, value-added capabilities. Leveraging our engineering services with the breadth and depth of the Positronic offerings will now provide our customers with enhanced capabilities."
With a broad range of power and hybrid connectors, Positronic and PEI-Genesis ensure your systems perform at their best.