Engineered for safe, reliable rail performance
The coal-fired train engines of yesterday have given way to the high speed, high performance, energy efficient, internet-connected wonders of today's railway travel and freight operations. And these new technological advancements require a sophisticated mix of engineered electronic connectors and cabling systems that offer safety, high quality, and reliability – all at the speed of today's global business world.

With our proven track record of providing custom connectors and cable assemblies around the world, PEI-Genesis is a leader in the railway connector market for many reasons.

Rail buyers look for quality and reliability first, then speed – how fast the distributor can deliver the product. Our clients look for a company that not only delivers quality quickly; they require a strategic partner who can help them anticipate challenges and adapt to solve problems as they arise.

Harsh environments & hazardous materials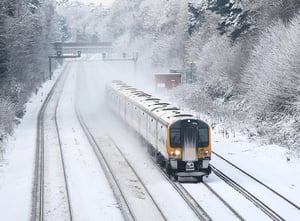 Electronic rail components need to withstand harsh environments that can cripple inferior connectors. It is not uncommon for power surges from 3,000 to 50,000 volts on many of today's trains. Railway connectors and cable assemblies need to also withstand extreme vibration, heat and other elements, and frequent electromagnetic interference (EMI).
PEI-Genesis' clients look for distributors to provide flexible and integrated solutions to allow for design and sourcing changes to accommodate these harsh conditions. For example, if EMI causes applications to fail, either a shielded connector or fiber optic cable assembly may need to be sourced – and sourced quickly.
There are also environmental safety and compliance needs specific to the railway connector market. Across Europe and other parts of the world, heavy metals like cadmium and lead cannot be present in connectors and cable assemblies. Electronic components may also have to comply with International Railway Industry Standard (IRIS), which is a certification based on the ISO 9001 structure.
To protect passengers and crew, rail connectivity systems all need to be classified as low smoke zero halogen (LSZH) to reduce toxic and corrosive gas emitted during high heat or a fire.
With a stellar reputation in meeting harsh environment criteria, PEI-Genesis offers a full line of connectors and cable solutions to meet these specifications, and more.
Stay tuned for Railway Connectors and Cable Assemblies: Safety & Reliability, Part II - coming August 30th. Learn more from PEI-Connects regarding the Internet of Trains and how our interconnect solutions can meet the needs of the railway connector market.