Rapidly changing market requirements combined with consumers who have grown accustomed to extensive customization options pose a significant challenge for manufacturing facilities and plants. Modular automation, however, has made it possible to meet these challenges quickly and easily. This has led to a demand for modular technology and the electrical connectors that support it.
The Demand for Automation Technology
The demand for more automation and advanced levels of production agility has been especially seen in pharmaceuticals, fine chemicals, and food and beverage industries. Such demands have also been accompanied by an increase in customer expectations for customization and smaller order sizes.
When customers require manufacturing facilities to scale production or completely change their final product, the entire production line may need to be reconfigured. But equipment reconfiguration is time-consuming, inefficient, and often complex. In addition, while highly efficient, processing plants are by their very nature less agile; in fact, large-scale plants are typically at their most efficient when producing items with less variation and at scale.
Modular automation, on the other hand, works like building blocks that allow plants and manufacturing facilities to quickly replicate and reconfigure modules and use them to scale production to meet consumer needs. By only changing a few modules, companies can produce a completely new product. Not only does this approach simplify engineering, but it also speeds up time-to-market and significantly enhances flexibility.
Such modular automation is assisted by a module type package (MTP) that standardizes the interface between the controls and module so that different processes and automation equipment can interact with other systems efficiently and without errors.
However, one of the challenges for modular automation lies in the type of industrial connectors used.
Modular Connectors
Each point of power, control, communication, and sensor data transmission throughout a plant is transferred via a connector into a control or power panel. This results in hundreds of fixed point-to-point contacts that engineers cannot easily move around should production requirements change. This further complicates the process of reconfiguration and can seriously impact the time and cost associated.
On the other hand, a modular connector is a multipurpose connector that can simultaneously provide multiple sources of connectivity (i.e., power and various types of data). Modular connectors are already used with open automation to make plants more flexible to consumer demands. Factory automation and smart factories have already begun to benefit from the adoption of such modular connectors.
HARTING Han Modular Connector Series
One line of modular connectors ideal for factory automation and smart factories is the HARTING Han Modular® Series, which combines power and signal circuits into one connector. These modular connectors can be extensively customized with over one hundred off-the-shelf modules that effectively combine various types of multimedia into a singular connector.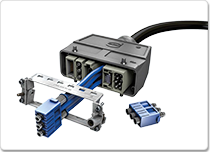 HARTING Han Modular® connectors integrate electrical, power, optical, and gaseous signal in one connector. They also support transmission styles that include signal, fiber optic, pneumatic, and coaxial, made possible by using a system of inserts that allow customers to customize the connectors to meet their specific modular connector needs.
For engineers, this means they can take advantage of modular automation without the hassle of extra cabling and the complexity of manually wiring each module.
PEI-Genesis: Your Partner in Flexible, Smart Manufacturing
Open automation and modular connectors prove that customer choice does not have to be a headache for automation environments. The type of flexibility made possible by modular connectors allows manufacturers to easily reconfigure their plants to meet changing consumer demands without the prospect of extensive downtime and significant complexity. PEI-Genesis can help turn your plant into a smart technology with a range of modular connectors and accessories to suit your needs.