MIL-DTL-38999 connectors are miniature, high-density circular connectors made for some of the most demanding conditions and harshest environments imaginable. These electrical connectors have been intentionally designed to meet very strict Mil-Spec requirements set forth by the U.S. Department of Defense to establish an industry standard for performance and reliability. Despite being designed for the military, 38999 connectors now can be found in a wide variety of applications including commercial aerospace, industrial, marine, communication, entertainment, medical, and even automotive commercial applications.
MIL-DTL-38999 Series
MIL-DTL-38999 connectors encompass four different series. Series I connectors have a bayonet coupling mechanism and are designed to be scoop-proof and perform well in environments with moisture, wind, and high vibration. Series II connectors are also bayonet connectors to include a low-profile design to accommodate weight and/or space restrictions. This variation of 38999 connector is not scoop-proof, but will still function well in environments with wind, moisture, and low vibration.
D38999 Series III connectors differ from Series I and II in that they use a self-locking threaded coupling system. They are scoop-proof and perform well in high-temperature environments that may include vibration, moisture, or wind. There are also Series IV connectors that use a Breech-Lock mechanism for coupling. Like the Series III design, they are scoop-proof and do well in high-vibration environments. These connectors are perfect for blind mating applications and only require 90-degree rotation to engage and disengage.
Let's take a look at the first three MIL-DTL-38999 series from a few of the industry-leading manufacturers.
Conesys 38999 Series I
One well-known manufacturer of 38999 Series I connectors is Conesys. These subminiature circular connectors are ideal for use in tight spaces requiring protection against extremely harsh environmental conditions. The connectors use a bayonet coupling mechanism and are scoop-proof to protect contact integrity. A scoop-proof design prevents the possibility of bending or shorting contacts during the mating and unmating process by having the pins recessed back in an elongated shell.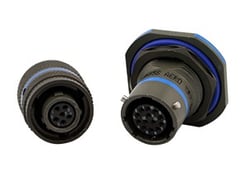 Conesys Mil-Spec connectors come in 5 different receptacle-mounting styles and are available in high density contact configurations. Well suited for smaller wire-gauge applications and equipped with RFI and EMI shielding, these Mil-Spec connectors are rugged and are rated to a minimum of 500 mating-cycles.
SOURIAU 38999 Series II
SOURIAU 38999 Series II connectors are another military-grade bayonet connector solution specifically designed for use in harsh environments. These applications include communications, medical instrumentation, and missile/weapon systems. The circular connectors are fully qualified to MIL-DTL-38999 Series II and can handle temperatures from -65°C to 200°C, withstand up to 500 hours of salt spray, withstand shock and vibration, and even perform in the presence of corrosive industrial fluids.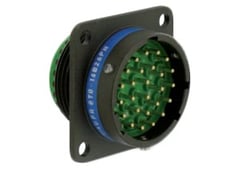 The SOURIAU D38999 Series II product line is designed with a lower profile and is 30% shorter than 38999 Series I. These quick coupling electrical connectors offer high contact density and provide excellent RFI/EMI shielding. Available in 9 different shell sizes and 43 different pin configurations, 38999 Series II connectors from SOURIAU can support arrangements up to 128 contacts.
Amphenol 38999 Series III
The Amphenol 38999 Series III product line is ideal for military and commercial aircraft applications, as well as any application requiring quick mating, environmental sealing, and high vibration durability. These Amphenol connectors provide excellent signal integrity due to the shielded mating system that utilizes 360-degree shell grounding fingers to help provide outstanding protection — up to 65dB at 10GHz. Amphenol 38999 Series III connectors are well suited to the rigorous demands of digital electronics on fly-by aircraft, advanced robotics, and industrial equipment. If space is at a premium, they offer up to 128 contacts per connector.
PEI-Genesis: Your Partner for MIL-DTL-38999 Connector Solutions
In order to specify the correct electrical connector for your application, knowing the differences between the various Mil-Spec 38999 connector series is critical. Whether your application calls for a low-profile connector that can withstand low vibration conditions or a one that must combat high temperatures and moisture, having a partner that will advise you on the best solution is important, especially when it comes to meeting the Military Standard requirements. Additional to the manufacturers discussed above, MIL-DTL-38999 connectors are also available from other industry-leading manufacturers such as ITT Cannon and TE Connectivity DEUTSCH. No matter the situation, PEI-Genesis can assist you in specifying a standard 38999 connector or even custom assemble one to meet any application requirement.